Two students inducted into Psi Chi
---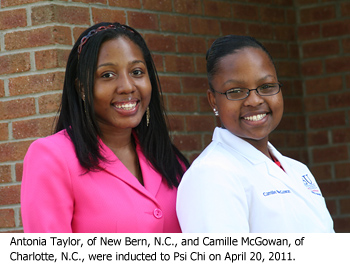 Kesha Williams
April 25, 2011
Two students at Elizabeth City State University were inducted into Psi Chi, the International Honor Society in Psychology. The organization was founded in 1929 for the purposes of encouraging, stimulating, and maintaining excellence in scholarship, and advancing the science of psychology.
Antonia Taylor, of New Bern, N.C., and Camille McGowan, of Charlotte, N.C., were inducted to Psi Chi on April 20. Induction is based on students' academic records and commitment to the advancement of the science of psychology.
Membership is open to graduate and undergraduate men and women who are making the study of psychology one of their major interests, and who meet the minimum qualifications. Psi Chi is a member of the Association of College Honor Societies and is an affiliate of the American Psychological Association and the Association for Psychological Science.
Officers for Psi Chi and the Psychology Club were also installed during the ceremony to serve the next term. The Psi Chi president is La-khendra Johnson from Elizabeth City and Psychology Club President is Keiranni Taylor from Norfolk, Va.
Ms. Sherry Lewis, the coordinator for the First-Year Experience Program at ECSU, was the keynote speaker. Advisors for Psi Chi are Dr. Kulwinder Kaur-Walker and Dr. Jacqueline Huff.
---