Two Speakers Kick Off ECSU Research Week April 9
---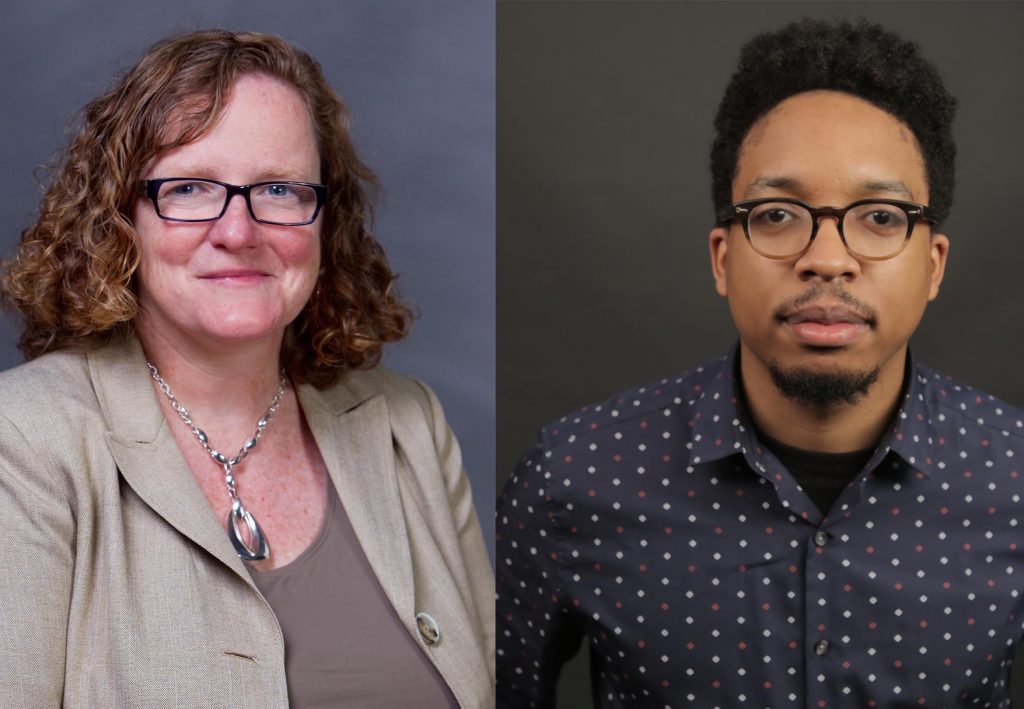 Dr. Lisa Clough, left, and Vann Newkirk II will be the keynote speakers kicking off ECSU's Research Week April 9.
Elizabeth City State University is celebrating academic excellence during the 2018 research week, featuring a number of lectures and presentations from Monday, April 9, through Friday, April 13. Two keynote speakers will kick the week off on April 9.
On the morning of April 9, journalist and activist, Vann Newkirk II, will talk about, "The Hidden Outcomes of Economic Injustice." Newkirk will speak in room 138 of the Jenkins Science Center at 10:15 a.m.
At 5:30 p.m., in the lobby of the Pharmacy Complex, Dr.Lisa Clough, head of ocean sciences for the National Science Foundation, will talk about "Ocean Observing: The Past, Present, the Future?"
Newkirk is a creative and multimedia-savvy journalist, editor, and content creator. He is a staff writer at TheAtlantic.com on politics and policy, with a special focus on health policy.
Prior to work at The Atlantic, Newkirk was at Daily Kos, where he focused on justice and health issues, focusing on the intersection of policy, race, class, and culture. He also has contributed articles, essays, and photography to sites such as GQ, Gawker, Grantland, and Ebony.
He is also the founder of Seven Scribes and a contributing editor.
Newkirk has also worked as a data-centered policy analyst with a focus on researching health policy issues, most specifically those dealing with disadvantaged and under-resourced communities. He now uses his analytic skills and background in statistics in nonfiction work and in multimedia projects, especially those dealing with health and health policy.
Accomplishments and works include preparation of the annual Kaiser Family Foundation Uninsured Primer, multiple presentations at health policy conferences and events, and work with website migration and management of the State Health Facts site.
Clough is the Head for the Ocean Section within NSF's Division of Ocean Sciences.  The Ocean Section is comprised of NSF's Biological and Physical Oceanography teams.
Prior to working in OCE, was the program director for Antarctic Integrated System Science at NSF for four years.  A coastal oceanographer by training, she spent 20 years at East Carolina University, achieving the rank of full professor of biology, and serving as the Associate Vice Chancellor for Research for two years.
She has numerous publications, most recently focused on coastal Arctic and North Carolina ecosystems. She is very interested in combining traditional and scientific ecological knowledge in order to comprehensively understand marine ecosystems.
Her outreach activities have included three years as the chair of the UNOLS Arctic Icebreaker Coordinating Committee. She was also a trustee for SURA (Southeastern Universities Research Association) and a member of the Board for NCABR (North Carolina Association for Biomedical Research), and PTRF (the Pamlico-Tar River Foundation).
She is a recipient of both the Arctic and Antarctic Service Medals, and the Distinguished Public Service Award from the U.S. Coast Guard.  Clough's Ph.D. is in Coastal Oceanography, awarded by Stony Brook University in 1993. She did her undergraduate degree at Wesleyan University in Connecticut, majoring in Biology and Earth and Environmental Sciences.
She lives in Falls Church, Virginia with her husband and their two children.
For a complete schedule of Research Week events click here.
---