Two New Members Appointed to the ECSU Board of Trustees
---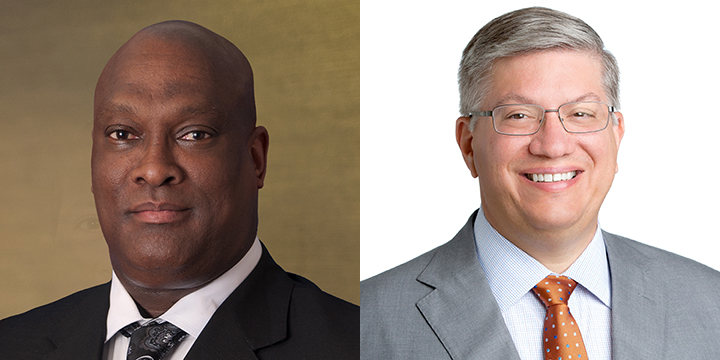 Johnny Tillett, left, and Stephen Friedrich are the newest members of the ECSU Board of Trustees.
Two new members have been approved to join the Elizabeth City State University Board of Trustees. Johnny Tillett and Stephen Friedrich were approved to serve as trustees by the UNC System Board of Governors during their meeting Thursday, April 22.
"I welcome our new trustees to the Viking family," said ECSU Chancellor Karrie G. Dixon. "I am looking forward to working with them in our efforts to elevate and sustain this great university as we continue to provide access to an affordable quality education."
Mr. Tillett is the senior vice president of state government relations with the McGuire Woods Consulting firm in Raleigh. He specializes in energy and utilities, healthcare, environmental interest, transportation and education.
Prior to joining McGuire Woods in 2007, Mr. Tillett led his own lobbying firm in Raleigh. Before opening his lobbying firm, he served in key positions with Dare County and the North Carolina Department of Juvenile Justice.
Mr. Tillett has been recognized as a top lobbyist at the North Carolina General Assembly. He is ranked as the 9thMost Influential Lobbyist of the 2013-14 legislative session by the North Carolina Center for Policy Research.
Mr. Friedrich is the chief commercial officer for Embraer Executive Jets. He has spent his career in the aviation and aerospace industry.
In his current role with Embraer, Mr. Friedrich oversees sales, client and industry relations, and business development. Embracer manufactures "internet enabled flying offices" designed for executives of Fortune 500 companies and middle-market firms. 
Prior to joining Embracer, Mr. Friedrich led global sales and marketing for Rolls Royce Civil Aerospace Business Aviation. He has also served in senior positions for financial institutions.
Mr. Friedrich graduated from Lafayette College with a degree in economics and business, and from the Stern School at New York University with an M.B.A.
The UNC Board of Governors is expected to make additional appointments to the ECSU Board of Trustees in May.
---