Two More Vikings Accepted into Coast Guard's CSPI Program
---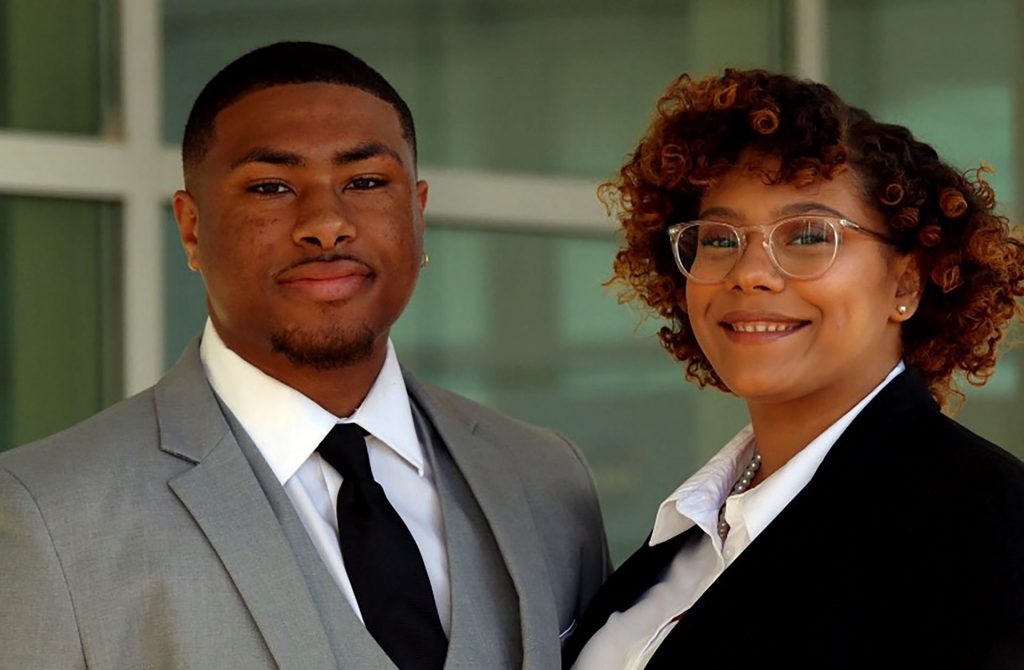 Two Elizabeth City State University students have been accepted into the Coast Guard's College Student Pre-commissioning Initiative, or CSPI, program. Sophomores Taimara-Syd'nei Hoffler and Daimon Rawlinson Jr., will become ECSU's second and third members of the Coast Guard's CSPI program this semester.
The CSPI program gives eligible sophomores an opportunity to join the Coast Guard and receive two years of tuition, fees, and books as well as a salary and insurance. The students will complete Coast Guard boot camp at Cape May, New Jersey before returning to campus as enlisted members of the service.
Ms. Hoffler, 19, is from New Haven, Connecticut. She is working toward a degree in biology.
"I chose to pursue a degree in medicine because growing up, my father was sick," she said. "I hated to see him constantly back and forth to dialysis and in and out of the hospital."
Ms. Hoffler's goal, she says, is to take her desire to be a medical professional to the Coast Guard and become a physician's assistant. She says since she applied to CSPI, she began meeting people and learning just how close knit the Coast Guard community can be.
"I started seeing it as a family and I wanted to be a part of it," she said. "I also know it will be an outlet to apply my integrity and discipline while simultaneously serving my country."
She says what has appealed to her most about the Coast Guard and CSPI is the "high regard for education and honor."
"I already know that I will grow tremendously through this program," said Ms. Hoffler. "I have already started growing through the application process and preparing for boot camp."
Mr. Rawlinson, 21, is an aviation science major who counts his grandmother as a major influence in his decision to become a pilot and ultimately join the Coast Guard. His grandmother, he said, had always dreamed of flying, but never had the opportunity or means.
"She would say that she never met a black pilot before and wanted me to change that," said Mr. Rawlinson.
Mr. Rawlinson, like Ms. Hoffler, will go to Coast Guard boot camp and graduate as an enlisted member of the service. Through his junior and senior years, his primary job will be to complete his degree work before going on to Officers Candidate School, and then, he said, he hopes to be accepted into the Coast Guard's aviation training program.
"If I am blessed with the opportunity to train as a Coast Guard pilot, I will incur eight years added to my initial three-year contract from the CSPI program," he said. "From there, I would love to continue to serve my country until I reach 20-years and be eligible to retire with a pension."
Mr. Rawlinson says his decision to apply to the program came after his first semester as a freshman. He says the aviation program promoted CSPI and he saw an opportunity.
"The program and the benefits were constantly introduced into the classroom lectures and we would hear from speakers and fellow classmates that were in the program," he said.
After 20 years with the Coast Guard, Mr. Rawlinson says he would like to continue flying as a commercial airline pilot.
In February, ECSU's Nomar Proctor was also accepted into the program.
---