Two Former Aviation Students Flying High in Military and Commercial Airlines
---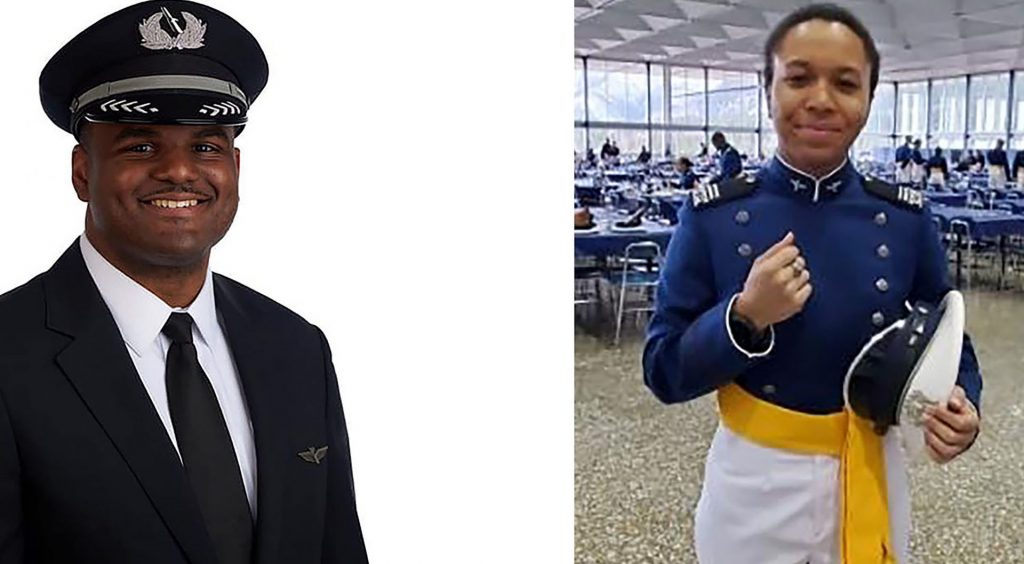 Two former ECSU Aviation Science program students have gone on to prestigious careers in aviation. Capt. Corey Kellam, left, is a pilot with PSA Airline. Taylor Morris has graduated from the U.S. Air Force Academy and commissioned as a second lieutenant.
Elizabeth City State University's Aviation Science program is training the next generation of pilots. Two former students have recently driven that point home, one as an up and coming military pilot and the other as a pilot for a major commercial airline.
Corey Kellam graduated from ECSU's Aviation Science program in 2014. He recently became the first African-American aviation student to be named a commercial airline captain, according to Orestes Gooden, chair for the aviation and emergency management department.
"Currently, there are three to four captains for the airlines that have been involved or matriculated through the ECSU aviation program," said Mr. Gooden, a former Navy pilot.
Capt. Kellam is a pilot for PSA Airline, a regional carrier for American Airlines. He posted on his Facebook page that it has always been his dream to become an airline captain.
"The journey toward this goal was definitely a challenging one," he wrote. "In fact, it was one of the most challenging things I've ever done in my entire life."
Capt. Kellam's recent success came at the same time former ECSU aviation student, Taylor Morris, graduated from the United States Air Force Academy, commissioned as a second lieutenant. The newly commissioned officer will now go on to flight training school at Ellis Airforce Base.
Beginning her education at ECSU, 2ndLt. Morris was an aviation student who had a dream of becoming a pilot in the Air Force. While studying aviation science in Elizabeth City, she applied for acceptance into the academy in 2016, according to Dr. Kuldeep Rawat, dean of ECSU's School of Science, Aviation, Health and Technology.
"While attending ECSU, Taylor was recognized as an exceptional student with a passion for academics and flight," said Dr. Rawat.
The aviation program at ECSU is the only four-year degree program of its kind in North Carolina. The program offers pilot training as a part of its curriculum, giving students the opportunity to earn a private and commercial license before they graduate with a Bachelor of Science degree.
The university currently has 12 training aircraft in its fleet, housed at nearby Elizabeth City Regional Airport.
The drone degree program is the newest addition to the growing aviation program, offering a B.S. in Unmanned Aircraft Systems.
ECSU's drone program students receive drone pilot training, mission planning, data processing, system design and integration, and more. The UAS program also includes applied research in areas such as precision agriculture, infrastructure inspection, 3D mapping, Homeland Security, and thermal imagery.
The B.S. degree in Unmanned Aircraft Systems (UAS) includes instruction in electronics/electrical systems; GPS/GIS; UA aircraft platforms; data acquisition; precision agriculture and surveying, software and hardware; and data management.
Upon completion, students will have obtained the necessary skills for entry-level employment in industry that engages UAS for their operation.
---