Two ECSU Men Nominated for 2019 Men of Excellence Award
Posted On September 12, 2019
---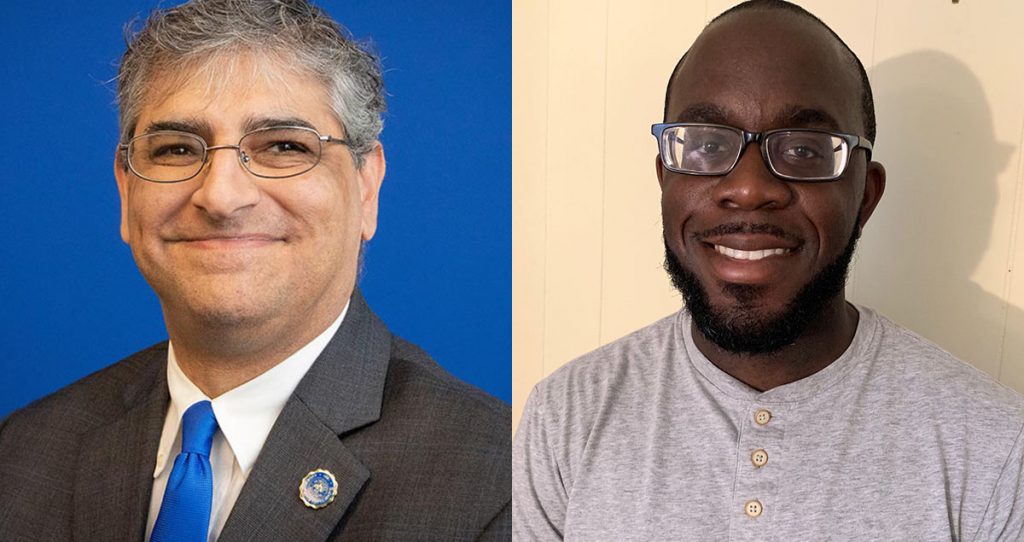 Russ Haddad, left, and Jeffery Smith are two ECSU men who have been nominated for this year's Men of Excellence award. The award breakfast takes place at the K.E. White Center Sept. 24 at 8 a.m.
You can count two Elizabeth City State University men among the 17 nominees for the fifth annual River City Community Development Corporation's Men of Excellence Awards Breakfast.
On Tuesday, Sept. 24 at 8 a.m., ECSU senior Jeffery Smith, and the university's director of community development, Russ Haddad, will find out if they will be one of a handful of men to receive this year's honor. The keynote speaker for the event will be Wavy 10 News anchor Don Roberts.
Smith is a senior majoring in engineering technology. A native of Elizabeth City, he will graduate in December 2019 and has his eye on earning a master's degree in architecture.
Smith says his time working with Youth Build both independently and in groups helped him determine his future. He says he worked on home renovation projects in the area.
"The projects really engaged my interest in architecture," he said.
Most recently, when Smith is not attending classes or working as an environmental services technician at Albemarle Sentara Hospital, he has been volunteering with ECSU's NASA STEM program. Smith works with area high school students who attend the popular science-based program.
Russ Haddad is a longtime Elizabeth City resident who has worked at ECSU for nearly five years. In his capacity as director of community development, Haddad has worked with both the campus and Elizabeth City communities to bring Viking spirit to the region through volunteer programs.
Haddad has been involved with the creation of the Viking Volunteer Corps, One Initiative civic engagement program, and the economic development program InnovatEC. He is a member of the Morning Rotary Club and active throughout the Elizabeth City community.
"I feel honored and humbled," said Haddad. "I'm grateful to be nominated to be one of the Men of Excellence."
The breakfast will be held at the K.E. White Center Sept. 24 at 8 a.m. Tickets are $30 each or $225 for a corporate table of eight. Tickets can be purchased by calling 252-331-2925.
---