Twenty-one ECSU students inducted into Beta Beta Beta
---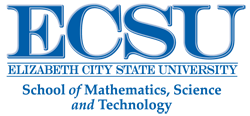 Kesha Williams
May 24, 2011
&ampnbspJamie K. Peebles of Winston-Salem, N.C.
Advisors for the ECSU chapter are Lavern Jones, &ampnbspa lab manager for the Department of Biology, and Dr. Michael A. Winrow, an associate professor of biology.
TriBeta, as it is called, is an honor and professional society for undergraduate students that seeks to encourage scholarly attainment in the field of biology.
In order to qualify for membership, students must major in biology and have a grade point average of 3.0 or higher. TriBeta's regular, lifetime membership is reserves for those who achieve superior academic records and who indicate special aptitude for and major interest in the natural life sciences.
As a way of cultivating intellectual interest in the natural sciences and to promote a better appreciation of the value of biological study, associate membership is open to all those who are interested in biology.
TriBeta was founded in 1922 at Oklahoma City University and has grown to include more than 200,000 members from more than 550 chapters throughout the United States and Puerto Rico.
---