Tuskegee University to Face Elizabeth City State University in Pioneer Bowl XI
Posted On November 23, 2009
---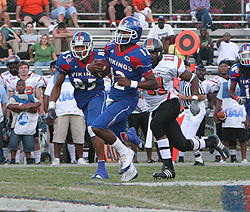 April Emory
November 23, 2009
The Central Intercollegiate Athletic Association (CIAA) and the Southern Intercollegiate Athletic Conference (SIAC) have announced that Elizabeth City State University and Tuskegee University have been selected to participate in the 11th Pioneer Bowl. The game will take place on Saturday, December 5, 2009 at the Charlie W. Johnson Stadium in Columbia, SC, 2:00pm.
The Elizabeth City State University Vikings, led by Head Coach Waverly Tillar, finished the season with a 7-3 overall record and found themselves in the midst of a three-way tie-breaker for a chance at the Eastern Divisional title. The Tuskegee University Golden Tigers, led by Head Coach Willie Slater, won their fourth consecutive SIAC Championship, while holding an 8-2 overall record with one regular season game remaining. TU is currently ranked #14 in the American Football Coaches Association (AFCA) poll and #3 in the latest Sheridan Broadcasting Network (SBN) poll. This will mark Tuskegee's eighth Pioneer Bowl appearance while Elizabeth City State will be making their first.
The Pioneer Bowl is the only NCAA sanctioned bowl game involving HBCU athletic conferences. The game features teams from the SIAC and the CIAA. Tickets are $15.00 in advance and $20.00 on game day. For ticket information, please contact the CIAA Office at (757) 865-0071 www.TheCIAA.com or the SIAC Office at (770) 908-0482 www.TheSIAC.com. 2007 Pioneer Bowl Results – Tuskegee 58 Virginia Union 51 (12/5/07) About the CIAA
The Central Intercollegiate Athletic Association (CIAA), founded in 1912, is made up of 11 historically black colleges and universities situated along the Eastern seaboard. For conference information please visit www. TheCIAA.com.
About the SIAC Founded in 1913 the SIAC is comprised of thirteen historically black institutions (Albany State, Benedict, Claflin, Clark Atlanta, Fort Valley State, Kentucky State, Lane, LeMoyne-Owen, Miles, Morehouse, Paine, Stillman, Tuskegee) located within a five state footprint. (Georgia, Alabama, South Carolina, Tennessee, and Kentucky).
Tune into WRVS-FM 89.9 for a live broadcast of the Pioneer Bowl! You can also listen online here.
Please note the ECSU host hotel for the Pioneer Bowl on December 5, 2009:
The Marriott Columbia (downtown)
1200 Hampton Street
Columbia, South Carolina 29201
Hotel Ph: (803) 771-7000
Fax: (803) 254- 2911
Toll-free: 1-800-593-6465
http://www.marriottcolumbia.com/accomodation.htm
Room Rates: start at $99.00 + taxes (11%)
Advance Purchase 7 Day rate, prepay in full, non-refundable if cancelled more than 1 day after booking, no changes
Call the Marriott Columbia to make reservations.
---