Top scholars win awards from the School of School of Mathematics Science and Technology
---
Kesha Williams
May 17 2010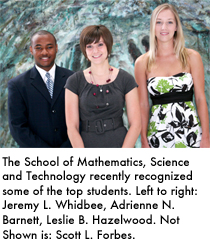 Barnett won the Evans-Patterson Award which is named after the first ECSU science graduate. It is awarded to the non-transfer student in the School of Mathematics Science and Technology with the highest GPA. Jeremy Whidbee won the 1st runner-up award for the Evans-Patterson Award. Scott Forbes won the 2nd runner-up award.
Hazelwood was recognized for having the highest GPA of any student who transferred to ECSU's&ampnbspSchool of Mathematics Science.
Whidbee Barnett Hazelwood and Forbes are all biology majors who graduated on May 8 at the 150th Commencement at Elizabeth City State University.
---