Time Magazine: ECSU Graduate and Internationally Renowned Documentary Photographer Joshua Rashaad is Profiled in Time Magazine's American Voices Series.
Posted On October 24, 2017
---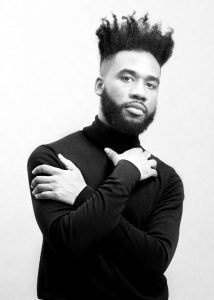 Joshua Rashaad McFadden stood with his camera poised, ready to snap a photo of a fresh-faced college senior. It was orientation week at Morehouse, the 150-year-old, all-male, historically black college in Atlanta that counts Martin Luther King Jr. among its alumni. McFadden was photographing current and past students for "Notions of Freedom," his new portrait series set in places—in Atlanta and around the country—that have ties to the black community. It's the follow-up to his project "Come to Selfhood," which juxtaposed images of young men with decades-old pictures of their fathers and handwritten musings on black masculinity. This new endeavor echoes themes of his earlier work—both "Come to Selfhood" and "After Selma," which documented the 50th anniversary of the famed civil rights marches—while promising to be a powerful demonstration of how people's perceptions of civil rights in America are shaped by the place where they live.
---