Thurgood Marshall College Fund President Tours ECSU
---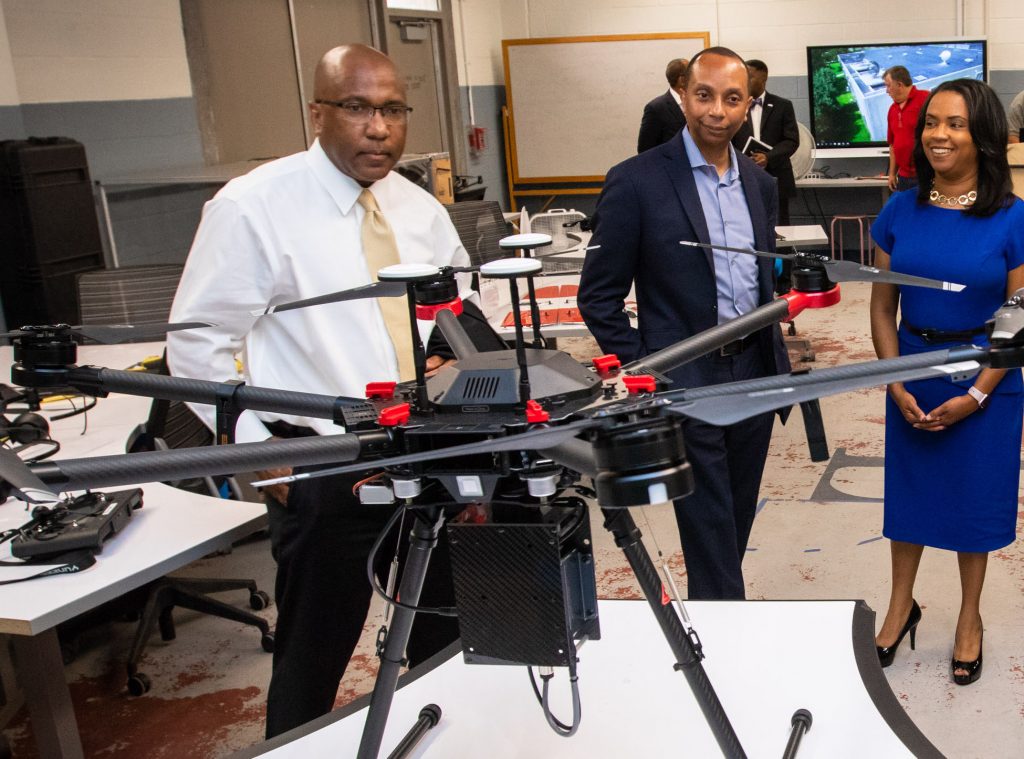 President of the Thurgood Marshall College Fund, Dr. Harry Williams, left, is joined by the Fund's vice president of government relations, Sean Burns, center, and ECSU Interim Chancellor Dr. Karrie Dixon in the drone lab Monday, July 16. Williams and Burns toured ECSU and learned about the aviation science program and the recently announced drone technology degree.
Dr. Harry Williams stood back, gazing at a drone in the sky as an aerial photo was shot of the Thurgood Marshall College Fund president's visit to Elizabeth City State University Monday, July 16. It was his first stop on a tour that will take him to the country's 47 public HBCUs.
Williams has been on the job as the Fund's president for eight months. Formerly the president of Delaware State University, he is the first sitting university president to take on the role of the Thurgood Marshall College Fund president, and he has plans to move HBCU students into the future with programs such as ECSU's aviation degree, and its upcoming degree in drone technology.
Williams, accompanied by ECSU Interim Chancellor Dr. Karrie Dixon, toured the aviation program labs and learned what the university has to offer students. While other HBCUs across the country have aviation programs, Williams said ECSU will be the first to offer a degree in drone technology.
Aviation program director, Dr. Kuldeep Rawat, explained the many career opportunities for students graduating with such a degree. The applications for drone technology are in the hundreds, he told Williams.
"This program makes sense for potential, future employees," said Williams.
Williams says the Fund works with the federal government and private corporations, seeking grants for student internships, career opportunities, and to help fund scholarships. ECSU is one of the many schools the Fund works with in an effort to advance students through their years at university, and then onto careers in their chosen fields.
Williams explained that the Thurgood Marshall College Fund identifies scholars at its member schools and helps fund their education. He says those students have a high retention and success rate.
"Ninety-seven percent of our students graduate from college," said Williams.
Williams explained that by working with the public and private sector to help find grant dollars for students, the Fund is able to work with students effectively to find success. He used Boeing as an example of how working with the private sector can pay off for students.
Williams said the aeronautical corporation has committed $5.8 million to work with eight Fund-member schools. The goal is to bring diversity into the Boeing workplace and help students find success in the aviation field.
"They can apply to be a Boeing scholar," said Williams.
His visit to ECSU, and subsequent schools, is to help him identify the strengths of the various schools and talk about what they have to offer when looking for scholarship funding.
The Thurgood Marshall College Fund was established in 1987 and is the nation's largest organization representing and raising funds for public HBCUs. Named for the U.S. Supreme Court's first African-American Justice, the Fund has awarded more than $300 million in assistance to students and its member-schools.
---