Three ECSU Students Prepare for Study-Abroad Experience
---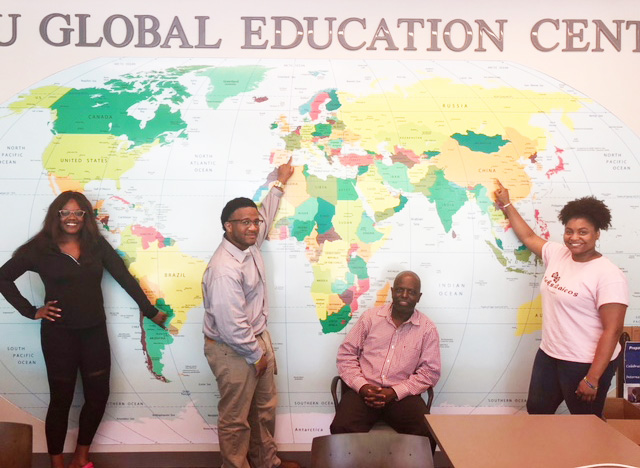 Zandria Edwards, far right, Khya Kornegay, far left, and Malik Singleton, center/standing, pose with Dr. Andre Stevenson while pointing the countries they will visit during the study-abroad experience.
Mark Twain famously said, "Travel is fatal to prejudice, bigotry, and narrow-mindedness, …" And exploring the world as a student also builds a view of other cultures that can better inform your future – that's in part the aim of the Gilman Scholarship, funding study-abroad opportunities which three Elizabeth City State University students will embark upon at the end of this semester.
Dr. Andre Stevenson is a professor of social work at ECSU, and he's excited that three of his students will get the chance to broaden their worldviews when they spend time in Spain, China, and Argentina. Khya Kornegay will spend a month in Buenos Aries; Zandria Edwards will spend a month in China, and Malik Singleton will study for one month in Spain.
"The world is becoming increasingly small and international education is something students all over the country are becoming increasingly involved with," said Dr. Stevenson. "It gives them inter-cultural connectedness, breaks down stereotypes and gives them cultural awareness."
The students applied to study abroad through the Council on International Education Exchange, or CIEE. They also applied for the Gilman Scholarship that, through the U.S. State Department, helps fund these opportunities.
Dr. Stevenson says each student will have the opportunity to take courses at universities in their country of choice, and two will stay in the homes of local families, while one will be housed in a hotel.
Zandria Edwards is headed to Shanghai, China where she will live in a hotel while studying a course titled, "The Political Development of China." She says she's interested in Asian culture as a whole and a month in China will allow her to gain new perspective on not only Asian culture, but also more specifically the world of China.
"I wanted to go over and observe what the culture is, and compare and contrast," she said.
A social work major, Edwards plans to earn a master's degree eventually, and go on to work with the elderly and perhaps open a facility catering to the needs of the elderly.
She says that her learning experience began when she first set out to apply for the CIEE program, and the scholarship.
"I think it's been an interesting learning experience so far," said Edwards. "It's very informative and I would recommend to anyone wanting to study abroad, to look into the CIEE and Gilman Scholarship."
While Edwards spends her time on the Asian continent, Khya Kornegay will dip well below the equator to Argentina. The sociology major will study sexuality and gender in the nation's capital, Buenos Aries.
Kornegay will graduate in spring 2020 and hopes to get her master's degree. She'll go on to become an elementary school counselor, and says she anticipates working in a region with a substantial minority population, perhaps with a concentration on Latino students.
While in Buenos Aries, Kornegay will be staying with a local family. She will have the advantage of not only studying, but also getting to know the region.
"I'm ready to go," she said.
Although Malik Singleton did not receive the Gilman Scholarship to help fund his travels, he did apply to and was accepted into the CIEE program, placing him in Barcelona, Spain. Singleton, according to Dr. Stevenson, will study history and the arts while in Barcelona, and he will stay with a local family. According to Dr. Stevenson, Singleton plans to become a school counselor.
Singleton says he chose Barcelona because he has a love of Spanish and Latino cultures, and he also has family in Madrid. He will be studying the history of Spain and the region, and also art and architecture because it's simply something he loves.
But perhaps more importantly, he will gain valuable experience through interacting with people.
"It will give me a chance to interact with another culture which will be useful as a social worker," said Singleton.
These ECSU students have, says Dr. Stevenson, worked hard to earn a place in this study-abroad program. They are, he said, "impressive."
"It is worthy to note that, in addition to the two students being our latest Gilman Scholars, each of them are also our first Council on International Education Exchange Scholars," wrote Dr. Stevenson in an email. "Between scholarships awarded through Gilman, and CIEE, our three students have successfully amassed over $21,000 to be able to study abroad for free this summer. That is impressive."
---