Theater named in honor of 1952 graduate: The Mary Albritton Douglas Auditorium
Posted On November 3, 2009
---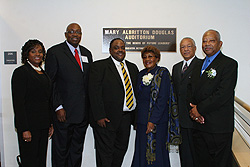 Kesha Williams
November 03, 2009
The ECSU Foundation recently named the theater in the Walter N. &ampamp Henrietta B. Ridley Student Center in honor of a 1952 graduate (Elizabeth City State Teacher's College), Mrs. Mary Albritton Douglas. Mrs. Douglas is a native of North Carolina. ECSU Foundation and university administrators recently unveiled the new nameplate, The Mary Albritton Douglas Auditorium, on the second floor of the 'Ridley Student Center. In addition to the bachelor of science earned here, Mrs. Douglas earned a Master of Arts and a professional diploma from Teachers College-Columbia University. Further studies were done at Bank Street College and the University of Puerto Rico. She was a student member of Alpha Kappa Mu, Sigma Rho Sigma and later joined Sigma Gamma Rho Sorority, Inc. Douglass retired in 1985 after teaching 33 years in Maryland and New York. After retiring she completed all the requirements for the Certified Nursing Assisting program and currently volunteers at St. Barnabas Hospital.
She is the only African American female Eucharist minister in her local parish, St. Anthony of Padua Roman Catholic Church. She has traveled to Bermuda, Venezuela, New Zealand, Malaysia, Egypt, The Holy Land, Switzerland, Italy and many more destinations. Her awards include the Outstanding Graduate award from ECSU, the Distinguished Alumni Citation award in education from the National Association for Equal Opportunity in Higher Education (NAFEO), Sigma of the Year award from the Kappa Sigma Chapter of Sigma Gamma Rho Sorority Inc., and the Nursing Volunteer of the Year award from St. Barnabas Hospital. She is a life member of the National Council of Negro Women and a life member of the ECSU National Alumni Association.
Mrs. Douglas is the widow of the late Frederick a. Douglas, Sr., the mother of two, the grandmother of four and the great-grandmother of two.
Standing left to right: Mrs. Jacqueline Gilchrist, ECSU Chancellor Willie J. Gilchrist, Mr. Frederick A. Douglas, Jr., Mrs. Mary Albritton Douglas, Dr. Harold Mitchell, chairman of the ECSU Board of Trustees, and Dr. Charles Cherry, president of the ECSU National Alumni Association.
---