The Vikings compete at the Honda Campus All-Star Challenge
---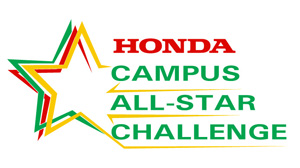 Kesha Williams
April 11, 2011
Students from Historically Black Colleges and Universities (HBCUs) across the nation are making final preparations to vie for academic glory at the nation's only HBCU academic competition – the Honda Campus All-Star Challenge (www.hcasc.com). This two-day competition will test students' knowledge of history, science, literature, religion, the arts, social science, and popular culture while giving them the opportunity to win much needed grant money for their schools. In all, more than $300,000 in institutional grants will be awarded.&ampnbsp
Elizabeth City State University has participated in the HCASC program since 1992. During this period, ECSU has competed at 14 National Championship Tournaments. The Vikings have made it to the playoffs seven times. The team has also advanced to the quarter finals, semi finals, and runner up categories. The Vikings have won approximately $89,000 in institutional grants.&ampnbsp Derrick Wilkins, the team coach, said he is looking forward to another round of competition at the Honda Campus All-Star Challenge.
&quotThe HCASC Program provides an excellent opportunity for our students to engage in competitive academic competition outside the classroom. The investment that American Honda Motor Company, Inc. continues to make for the program will yield an abundant return to society as our student scholars graduate and become leaders across the globe,&quot Wilkins said.
ECSU will send the following four students to the competition:
Stephanie Reynolds, the team captain, a senior from Havelock, N.C., majoring in Communication Studies
Cedric Hall, a senior from Philadelphia, Pa., majoring in mathematics
Terris Miller, a senior from Philadelphia, Pa., majoring in history/secondary education
Joseph Thornhill, a junior from South Mills, N.C., majoring in history
William Gill, a freshman from Wake Forest N.C., majoring in computer science, is the team&ampnbspalternate.&ampnbsp
Reynolds says the ECSU team is preparing now for the competition in Orlando.
&quotI'm really looking forward to competing in the tournament. It will be great meeting all the players from the other schools. I believe we have a really well rounded team this year, and that everyone is going to do their best to get some wins,&quot Reynolds said.
The 22nd annual Honda Campus All-Star Challenge (HCASC) will take place at the Hilton Walt Disney World Resort in Orlando, FL from April 10-12. This year's &quotGreat 48&quot includes schools from Alabama, Georgia, Mississippi, North Carolina, Ohio, Pennsylvania, Illinois, South Carolina, Delaware, Florida, Tennessee, Louisiana, New York, Kentucky, Missouri, Maryland, Oklahoma, Virginia, Texas, West Virginia, and Washington D.C. Each school will be split into eight divisions and compete in a modified round robin format.&ampnbsp The top two teams from each division advance to the &quotSweet 16&quot for a single elimination playoff competition.&ampnbsp The final two teams will compete for the National Champion title and the grand prize of $50,000.
HCASC is one of Honda's largest and longest running philanthropic initiatives in the United States.&ampnbsp Throughout its 22-year tenure, the program has touched over 50,000 students and awarded more than $6 million in grants.&ampnbsp In addition to providing students a venue for friendly competition, the program encourages relationship building, intellectual excellence, and the development of values that define good character.&ampnbsp
&quotIn 1989, the Honda Campus All-Star Challenge was created to highlight the great minds and talent present at our nation's Historically Black Colleges and Universities.&ampnbsp Today, 22 years later, we at Honda are proud to still be a part of HCASC as it continues to exemplify HBCUs' academic excellence, enrich our nation's youth, and invest in one of the country's largest pipelines for professional, artistic, and academic talent.&quot – Marc Burt, senior manager, Office of Inclusion and Diversity, American Honda Motor Co., Inc.
More information
For more information on the Honda Campus All-Star Challenge and a list of the 48 participating HBCUs please visit http://www.hcasc.com/nct11/great48.asp.&ampnbsp
About Honda
Based on its belief of The Power of Dreams, Honda supports a variety of initiatives to advance education and create experiences of discovery that help people see and achieve their own dreams.&ampnbsp The Honda Campus All-Star Challenge and the Honda Battle of the Bands are two of Honda's philanthropic programs that demonstrate Honda's commitment to supporting Historically Black Colleges and Universities and to helping young people follow their dreams.
HCASC Electronic Media Kit: http://www.epklink.com/hondaallstar/
HCASC on Facebook: http://www.facebook.com/HCASC
HCASC on Twitter: http://twitter.com/#!/hcasc
&ampnbsp
&ampnbsp
&ampnbsp
---