The Survey Says: Effective Leadership is Key to ECSU's Future
Posted On December 11, 2020
---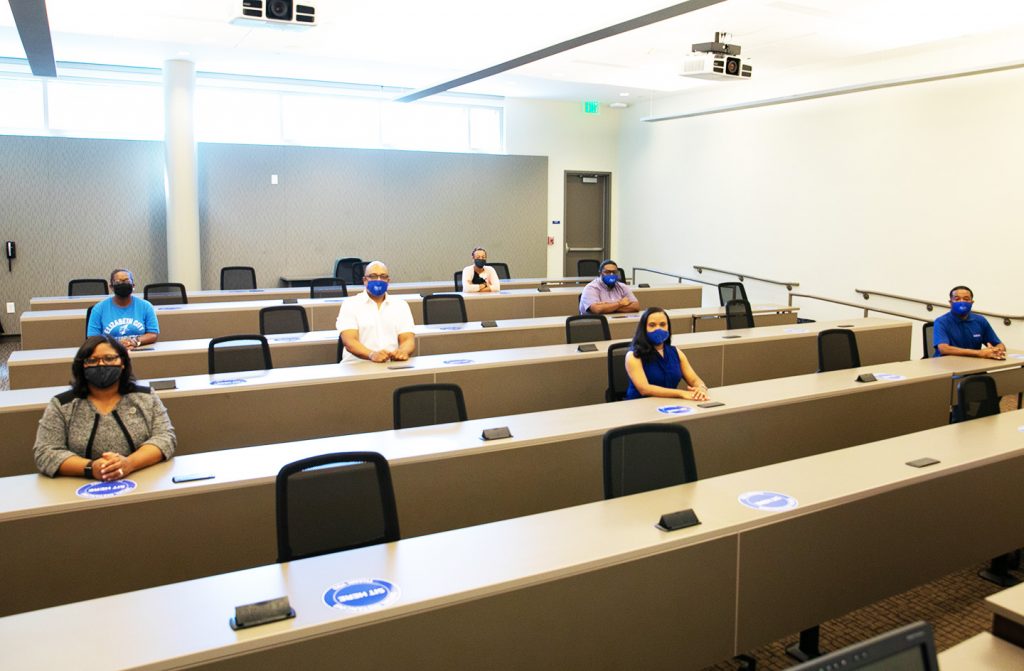 Chancellor Karrie G. Dixon, center, and members of her senior leadership team pose for a photo in one of the numerous classrooms set up for a safe, socially distant semester.
Guiding Elizabeth City State University through the next five years is the recently finalized five-year strategic plan. Leadership through the planning process, and inclusion of all university stakeholders, is one aspect driving a high rate of confidence across the campus and one example of how senior leadership is becoming more and more accountable and consistent, as expressed in a recent UNC System employee survey.
Senior leadership established an effective line of communication throughout the strategic planning process, and through focus groups and surveys, made certain all voices on campus would be heard. That inclusion alone helped lay a foundation for a greater confidence in the direction of the university across the campus.
According to the recently released employee survey, ECSU has one of the highest confidence ratings of all 17 North Carolina campuses.
Rich Boyer of ModernThink, the consulting firm contracted to implement the System survey, said in a meeting with ECSU senior leadership last November that employee sentiment and confidence had dramatically increased since the last survey in 2018. He told Chancellor Karrie G. Dixon and division vice chancellors that an increase in sentiment like the one seen at ECSU "is not by chance."
Overall, ECSU employees are confident that the campus is being "well run" and that, he said, is a "reflection of senior leadership." Confidence in senior leadership, according to Mr. Boyer, is up 46 points over 2018.
Employees across the campus from staff to faculty say they have experienced strong leadership under Chancellor Dixon's administration, and there has been a greater sense of belonging across campus.
Dennis Leary is the director of facility management and he says through Chancellor Dixon's leadership, there has been a great deal of support from the UNC System, and that fact generates a lot of "buy-in" and confidence across campus. Mr. Leary's assistant director, Mike Williams, agrees that leadership over the past two years has increased morale and instilled a greater confidence in the direction of the university.
He says the visibility of senior leaders across campus has been great, and he hopes to see more from them moving forward.
"I do like the idea of informal one-on-one encounters with all levels of staff," said Mr. Williams. "This would give senior leaders a better understanding of the thought processes and personalities of each staff member and give the staff the confidence to express themselves clearly."
Emergency Management professor, Dr. Kevin Kupietz, has worked in the field during many major crisis events across the country and he understands the power of strong leadership. ECSU, he says, has walked through numerous crisis events such as weather-related, technology-related, and the pandemic, and leadership has been key to success.
"I have been impressed with the leadership of the university being active, available, and truly concerned in each crisis," said Dr. Kupietz. "I have been even more impressed with the empowerment and trust they have shown in staff and faculty to help find the best solutions for each crisis."
Mr. Boyer, in his presentation to ECSU, stated that effective communication of intent, plans, and actions is an important component of leadership. Communicating positive messaging and being consistent with communication instills the sort of confidence in the institution that is required to establish a strong team environment.
Annemarie Delgado is the director of the Office of Sponsored Programs and through her work with grants and contracts, she comes in contact with people across the campus. She said there has been a marked increase in communication over the past year, and it is effective.
"I have definitely noticed that communication on campus has increased in all areas," she said. "From Academic Affairs, to the Chancellor's Office, to ECSU news releases, the campus community is more in-tune with what is happening across all departments and units. I very much appreciate the regular updates from the Chancellor's Communique and Updates from the Provost. Their communication to ECSU's faculty, staff, and students has been stellar."
In his report, Mr. Boyer encouraged senior leadership to continue down this path. In her comments at the end of his report, Chancellor Dixon was clear that while excited about the report's optimistic tone, "… there is more work to be done."
---