The Pink Out at ECSU Raises Awareness for Breast Cancer
Posted On October 13, 2016
---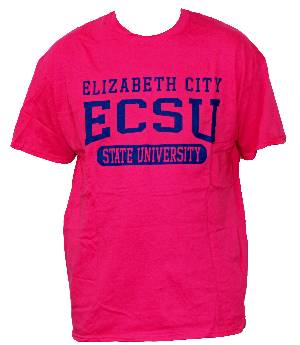 If you've ever known anyone with breast cancer then you know how devastating and frightening the disease can be. At Elizabeth City State University, many people know firsthand the reality of breast cancer and since October is Breast Cancer Awareness Month, we're doing our part with The Pink Out at ECSU.
Two October Viking games, volleyball and football, will raise awareness about breast cancer by asking fans, team members, cheerleaders and the community at large to attend these events dressed in pink.
On Oct. 17 the Vikings ladies volleyball team will play Bowie State at 6 p.m. Team members will include pink with their uniforms. Then on Oct. 22, the Vikings football team will go up against Chowan University at Roebuck Stadium. Team members, cheerleaders and fans will be adorned in pink to raise awareness.
According Russ Haddad, ECSU special projects director, atheletes will wear pink wrist bands, gloves and carry pink towels. Cheerleaders will be dressed in pink as well.
Students, faculty, staff and fans are invited to buy Pink Out gear at the Campus Store. T-shirts, sweatshirts, ear buds, backpacks, totes, water bottles, binders, and notebooks are available.
The community will be directly involved in the events, also. Haddad says Sentara Albemarle Medical Center will host a booth, as well as the American Cancer Society. There will be giveaways at the gate during the football game. Tickets to the games are available in Elizabeth City at Arts of the Albemarle and Museum of the Albemarle.
The women's volleyball game against Bowie State will be held Oct. 17, 6 p.m., in the Vaughan Center Arena. The Viking football game against Chowan University will be held Oct. 22, 1 p.m., at Roebuck Stadium. Tickets are on sale on campus and at Arts of the Albemarle or Museum of the Albemarle in downtown Elizabeth City.
According to the American Cancer Society, in 2015 more than 200,000 cases of breast cancer were diagnosed in the United States. More than 40,000 women died of breast cancer in the U.S. in 2015. For more information on breast cancer, visit www.cancer.org.
---