The Perfect Timing: Meet Telisha Hicks
---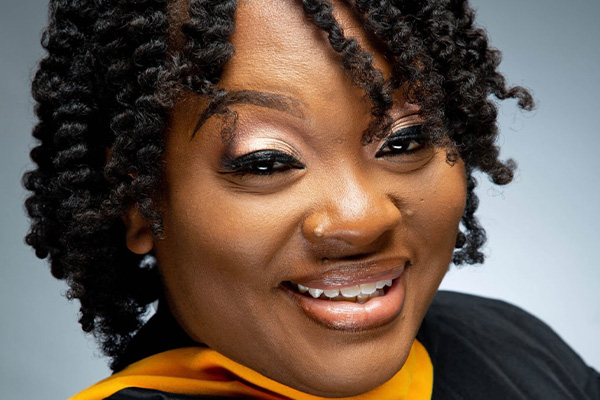 Telisha Hicks started her journey at Elizabeth City State University (ECSU) in August 2002. The Elizabeth City, N.C., native had just graduated from high school and was the mother of one toddler, Makiah, and a newborn. "I was young and enrolled at ECSU for two semesters before pausing my college career and refocusing on raising my family."
Hicks reenrolled at ECSU in 2019. At this point in her life, Hicks's family had grown to include nine children and one grandchild. She had a fierce determination to continue and complete her education.
"My parents were entrepreneurs their entire life, and I knew that I needed a good career and had to make money," she said.
Hicks' focus on obtaining her degree was because of three main reasons. "I wanted more for myself as far as education. I wanted to be a competitive force in the workforce. My children had come of age and gone to school, so what better way to go back to college myself and walk by example."
To make her journey even sweeter, she started at ECSU the same year her daughter, Mikaya, entered as a freshman. Two of Hicks' other children are enrolled in college: Ariana Sylvester is finishing her sophomore year at North Carolina A&T State University, and Jada Sylvester is completing her junior year at North Carolina Central University.
Hicks decided to major in social work. "I knew I wanted to be in the capacity to help people and had a passion for doing so. I get to help people like me and help advance women and individuals of color. I want the next teenage mom to be able to go to school and graduate and become successful."
Hicks' return to ECSU was arduous and not without many challenges. She had to work full-time, manage her household, and overcome being on financial aid probation due to her low GPA when she stopped out 17 years prior. Hicks worked tirelessly to prove herself and has exceeded in every aspect of her academic career.
Hicks has taken full advance of the collegiate experience at ECSU. She participated in the International Studies program and traveled and studied abroad in Lisbon, Portugal. She also presented at the Workshop on Intercultural Skills Enhancement (WISE) Conference in Winston Salem and at ECSU's Undergraduate Research Week in 2023.
She has been on both the Dean's and Chancellor's list while working full-time as a veterinary assistant, interning with a Pasquotank County Department of Social Services, completing over 400 field hours for the academic year, and supporting her three oldest daughters, who also attend college.
Upon obtaining her bachelor's degree on May 6, 2023, Hicks plans to continue her academic journey. "I plan to continue my education and secure my master's degree and become a licensed social worker in Va. and N.C. With my credentials, I can help people who may not have a voice and be unheard."
Her ultimate career dream: "I would create a residential facility on a farm for trauma-informed young adults, especially foster children, where they would be cared for and receive therapeutic treatment."
In reflecting on ECSU, Hicks noted, "ECSU has broadened my everything. You learn so much here—from reviewing a research paper to flying airplanes. ECSU and its professors and students broaden your horizons. For example, when I came to my internship, I was prepared based on what I learned in the classroom and use it everyday in a social services setting."
Makiah Hicks, who will earn her bachelor's degree in criminal justice at the same ceremony alongside her mom with her daughter in the audience, said, "I'm so proud of my mom and myself. Both of us graduating, proving that we can do it."
Her mom reflected, saying, "I can be a positive example for my children so that they know that anything is possible and reachable if you want it. There is only one way out of poverty, and that is through education. I will lead by example."
---