The North Carolina Logistics Task Force visits ECSU
Posted On October 25, 2010
---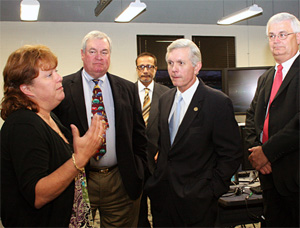 Kesha Williams
October 25, 2010
The North Carolina Logistics Task Force, chaired by Lt. Governor Walter Dalton, visited ECSU&ampnbsp on October 18 to hear from a variety of economic development and transportation experts about the needs of the northeastern region of the state. After the meeting, many of the guests toured the Elizabeth City State University Air Traffic Control Tower Simulator and the Pharmacy Complex.
The mission of the Logistics Task Force is to ensure that North Carolina has the necessary foundation to remain competitive in the global economy. The members of the Task Force are focusing on reviewing the state's transportation system and identifying potential areas for improvement in the state's current policy approach. The Task Force is studying the critical relationship between commerce and infrastructure to ensure the seamless movement of people, goods, and information throughout the state and beyond.
Photo caption: Robin Mangham, an air traffic control flight instructor with ECSU's Aviation Science Program, leads a tour of the university's Air Traffic Control Tower Simulator for guests who attended the North Carolina Logistics Task Force meeting on October 18. Guests included Dr.Eugene Conti, (left) secretary of transportation&ampnbsp for the NC Department of Transportation and Lt. Gov. Walter Dalton (center) and Mr. Vann Rogerson,&ampnbsp president and CEO of North Carolina's Northeast Commission.
---