The Dallas Black Dance Theater Brings Innovation to Elizabeth City in Virtual Community Connection Series Performance
---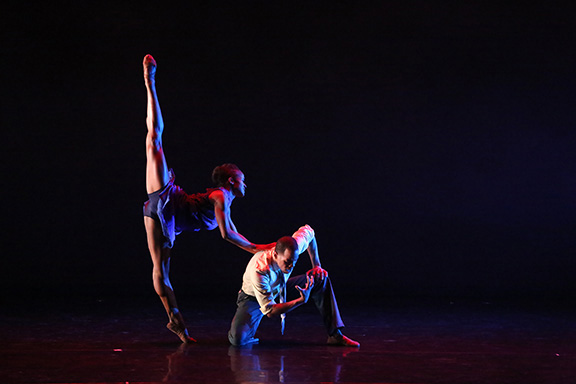 The Dallas Black Dance Theater's upcoming Elizabeth City State University Community Connection event is more than a virtual performance, it is an experience born out of a pandemic that motivated the artistic company to innovate in the face of challenging times.
Artists innovate when faced with a challenge, so when the world went home last spring to help lower the spread of COVID-19, while there was no immediate plan for the dance company, dancers began to create videos at home and post them on social media. Those individual videos were later edited into a longer performance video, and that eventually lead the Dallas, Texas-based dance company to a plan for virtual performances that have been seen by audiences from around the globe, says artistic director Melissa M. Young.
"We know we couldn't wait for COVID to go by, so we re-imagined what we are doing," she said.
When the Dallas Black Dance Theater gives its free Community Connections virtual performance on March 31, there will be opportunities to learn the company's history – this is their 44thseason – meet company members and learn about their backgrounds and view virtual performances. It is, says Ms. Young, "A bit of everything."
But it will be the virtual performances that will stand apart during the evening. These performances are not merely demonstrations of the dancers' artistry, they are choreographed and edited video performances that tell a story.
According to Sean J. Smith, a company dancer and rehearsal assistant, what were once staged, live performances, are now beautifully edited stories featuring dance, vocal performances and narration. The videos were shot on location, rather than relying on recording traditional staged performances.
"In a sense it is a dance film," said Mr. Smith.
Ms. Young says in the process of re-imagining staged performances for video, the company "thoughtfully chose locations to honor the work."
One such piece taken from the stage for video is "Bodies as Site of Faith and Protest," by Tommie-Waheed Evans. It is a dance performance that features vocals by Mr. Smith and the rest of the company, coupled with the voice of Dr. Martin Luther King Jr. reciting lines from his speeches and the gospel song, "We Shall Overcome," in the background.
"It has the feeling of protest and unity," said Mr. Smith.
Ms. Young says the mission of the dance company is, "to create and produce contemporary modern dance at the highest level." She hopes their virtual performance will uplift the Elizabeth City audience as it has been doing for so many since the pandemic sent audiences home and in front of their computer screens.
Since the Dallas Black Dance Theater began producing and showing their "dance films," Ms. Young says their audiences have expanded to include locations from across the nation and the world. One performance had audience members from 85 cities, something that would not have happened were it not for their innovative, virtual approach to dance performance in the time of COVID.
When the world entirely opens up again, Ms. Young envisions not only returning to the stage, but also continuing the production of their virtual "dance films."
"It is our desire to have a hybrid of our performances, to have the digital maintained," she said. "Everyone is growing and thriving, and we keep expanding."
The experience of the company's innovation and growth as performance artists can be viewed Wednesday, March 31 at 6 p.m. To register for this free event, go HERE.
---