Ten students trained for Viking Patrol
Posted On November 29, 2010
---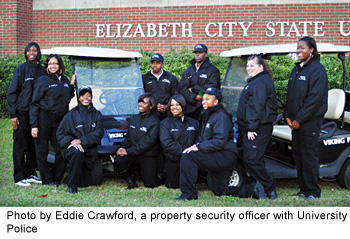 Darlene King
November 29, 2010
Ten students from Elizabeth City State University completed a seven-week, &quotCitizen's Police Academy&quot program to become part of the university's Viking Patrol.
This program was hosted by the Elizabeth City Police Department. The goal of the program is to give participants a better understanding of law enforcement patterns and local, state and federal laws pertaining to law enforcement. The students were educated on Patrol Techniques, Crime Prevention, Crime Scene and Code Enforcement, Constitutional Law, Traffic Safety, Crimes against Person and Property, 911 Communications, Narcotics, Gangs, Use of Force, K-9 and Criminal Investigations. The Students participated in the Firearms Laser Shot Simulator and the Taser Demonstration
The instructors consisted of law enforcement officers, the District Attorney, 911 Operator, State Bureau of Investigation Agent as well as the one and only CSI Investigator in the area. Participants also received a certificate of completion at a recent graduation ceremony.
The following students received awards:
The Annie Oakley Award went to Leilani McNeil (best female shooter).
The Lighting Bolt Award went to Reneka Thompson (taking the complete five second ride from the Taser Gun) .
The Wild Bill Hickok Award went to Keshawn Fraiser (best shooter from all angles).
Of the 10 students from ECSU participating in the &quotCitizen's Training Academy,&quot eight were female students and two were male. Out of a class of 30 members, Leilani McNeil, a senior majoring in criminal justice, was chosen president of the 2010 Citizen Police Academy.
Keisha Lightfoot was chosen as vice president of the class She is a senior and her major is Biology Pre Dentistry/Premedical with a minor in Business.
Other participants included: Keshawn Fraiser,&ampnbsp a junior majoring in Aviation with a minor in Air Traffic Control Chelsea Reid, a sophomore majoring in Biology with a concentration in Pre-med Christen Pelton, a junior majoring in biology with a minor in secondary education Lamonica Harrison, a senior majoring in Criminal Justice with a minor in Psychology Ashley Berryman, a senior majoring in sports administration Jeremy Jones, a sophomore majoring in criminal justice Kimberly Cole, a sophomore majoring in criminal justice
Safety and security Patrol will enhance the level of security on our campus. Patrols can help University Public safety staff members achieve their operation goals and objectives by targeting special security needs. The Viking Patrol will assist the University Police in any way deemed needed and necessary to enable sworn officers to fulfill their assigned duties in service to the university community. Some safety and patrol duties include serving as a visible deterrent while patrolling, assisting with vehicular or pedestrian traffic control during campus events, clerical tasks, campus escorts.
Sam Beamon, chief of University Police at ECSU said he was proud to see the students participating in the training with other area residents.
&quotThe Viking Patrol program is a different approach to providing safety for the campus community,&quot Beamon said. &quotIt's an opportunity for students to help bridge the gap between University Police and students, as well&ampnbsp get students involved in their own safety and the University as a whole. We are looking for nothing other than great things to come from this program.&quot
---