Technology Department opens new robotics lab
---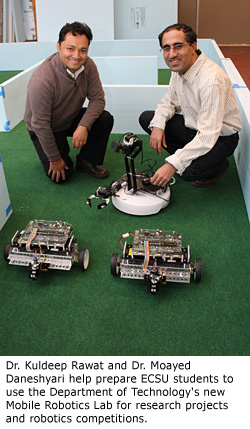 Kesha Williams
March 25, 2013
Faculty in the ECSU Technology Department hope a new Mobile Robotics and Autonomous Systems Lab will lead students down a new path of opportunities. The new laboratory contains a track 20 feet by 24 feet track that will allow students, staff and faculty to experiment with mobile robots. The Technology Department uses two types of robots to train students to program mobile robots for various real-work applications. Currently, one mobile robotics course is offered for students, but related concepts are covered in other courses. According to Kuldeep Rawat, chairperson of the Technology Department, the study of mobile robotics involves courses in electrical engineering, computer engineering, computer science, systems engineering, networking and more. Students will need those courses to prepare for future jobs related to robotics. Robotics no longer is limited to science arenas as industry increases the ways robots can serve consumers. Mobile robots can serve as vacuum cleaners. They can mow lawns. They can stock store shelves for big box merchants. Robots also are trained to conduct assorted tasks in agriculture, oceanography, forest management and in homeland security. Rawat says the time is now to prepare students to design, build and program robots and to operate them both remotely and autonomously. ECSU is part of the Advancing Robotics Technology for Societal Impact (ARTSI) Alliance, which is funded through the National Science Foundation. The goal of this alliance is to increase the number of African-Americans in high-tech fields. The alliance brings together a diverse community of educators and researchers to increase African-American education opportunities using robotics projects centered on societal needs and impact. At ECSU, Dr. Moayed Daneshyari, principal investigator for ARTSI and an assistant professor of technology, works with ECSU students to prepare them for regional robotics competitions. Last year, ECSU participated in robotics competition at Norfolk State University. This year, ECSU is preparing two teams to participate in robotics competition with more than 20 schools at Morgan State University in Baltimore. Daneshyari will work with Rawat to meet the goals of the newly established Mobile Robotics Lab in each of the following areas:
Robotics Research: Provide opportunities for undergraduate research in mobile robots. Students can conduct research projects focused on path planning and navigation, localization and mapping, sensor fusion, designing fully autonomous robots both ground and aerial, system modeling and simulation, and intelligent robotic platforms.
Robotics Education: Provide resources to integrate robotics design into existing curriculum.
Pre-College Outreach: Offer summer sessions to area school youths to promote student interest in Science, Technology, Engineering and Mathematics.
Last summer, Rawat and Dr. Ellis Lawrence, a professor in the Technology Department, conducted robotics design and programming sessions during an annual Summer Transportation Institute, which is funded by the Federal Highway Administration. Participants come from area high schools. Rawat says the new Mobile Robotics Lab will allow faculty to demonstrate multiple applications of robots for those who return this summer.
---