TALIAS topics announced for fall semester
---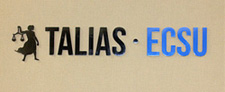 Kesha Williams
July 24, 2012
Elizabeth City State University is proud to present 16-18 seminars via, TALIAS, Technology Assisted Legal Instruction and Services this fall. The series allows the community as well as the student, faculty and staff of ECSU to attend free, legal seminars through high definition videoconferencing. Qualified attorneys from North Carolina Central University School of Law serve as the facilitators for the seminars.
See the list below for the next topics in this series:
Eagle Empowerment &quotHow to Handle Traffic Stops&quot
Child Support
Wills Education
Wills Documents
Child Support
Foreclosure Prevention
Domestic Violence
Eagle Empowerment &quotVoter Responsibility&quot
Child Support
Foreclosure Prevention
Eagle Empowerment &quotNavigating through Graduate School&quot
Re-Entry (this seminar is how to return to the workforce after being incarcerated)
Child Support
Child Custody
Foreclosure Prevention
Advance registration is encouraged. Call 252.335.8548 dmsampson@mail.ecsu.edu for specific dates and to reserve a seat in room #124 of Moore Hall at ECSU. The seminars are held from 6 p.m. to 7:30 p.m. Once the dates for each topic above has been confirmed the weblink for TALIAS will be updated.
ECSU is one of five Historically Black Colleges and Universities benefiting from a $2 million Broadband Technology Opportunities Program (BTOP) grant awarded to North Carolina Central University's School of Law. The program, Technology Assisted Legal Instruction and Services (TALIAS) is a live, interactive, videoconference series which originates at the NCCU School of Law and is broadcast to participating host sites such as ECSU. As a result of this videoconference technology, residents near Fayetteville State University, North Carolina A&ampT University and Winston Salem State University will also view the seminars at the same time.
The free segments are not only informative, but they save local citizens the time and cost of commuting to attend workshops in person.
he goal is to provide low-income residents within North Carolina insight into various clinics at the NCCU School of Law. The project provides legal guidance and training to residents that could include exorbitant paperwork and procedures associated with the legal processes that could otherwise be turned away by other legal agencies. This program also provides students at the four participating universities a glimpse of the topics NCCU Law School students are being prepared to handle as future attorneys.
For more information, see http://www.talias.net/videos
---