Takeia Green is Peer Health Educator of the Year
---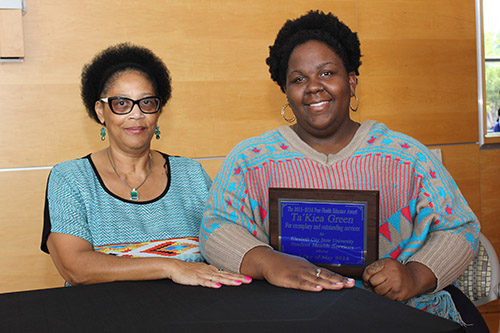 By Kesha Williams
Takeia Green, a senior from Enfield, N.C., was selected as Student Affairs' Peer Health Educator of the Year.
The Peer Health Educator program at Elizabeth City State University was established to empower students to help other students promote positive health behaviors. The university's Peer Health Educators Club members assist Student Health Services with conducting educational programming and performing outreach activities. The club consists of a group of students who are dedicated and trained to educate their peers on health matters common among people in their age group. Relevant topics include HIV/AIDS, sexual health, smoking prevention, alcohol, drugs, nutrition, obesity, and other related topics.
Mrs. Gloria Brown, a nurse with Student Health Services, said Green was selected as Peer Health Educator of the year because she excelled as a peer health educator. Green, president of the group, helped organize all events and outreach programs, kept other members updated and informed of all events, and maintained clear goals and visions for the group.
The award is reserved for a junior or senior with a minimum grade point average of 2.50 or higher who has served as a peer health educator for at least one academic year, committed to performing related duties, successfully conducted workshops, trainings and special events and remained clear of any major judicial violations.
Some of the Peer Health Educator Programs coordinated in the past included two HIV testing outreach programs which were free for the student body, monthly residence hall outreach programs in which the Peer Health Educators shared information on subjects such as breast cancer awareness, substance abuse prevention, diabetes care, HIV/STD prevention, and other health issues.
---