Summer Transportation Institute helps 16 area youths plan their future
---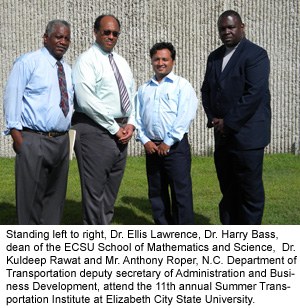 Kesha Williams
July 27, 2010
Officials from NC Department of Transportation visited ECSU's Summer Transportation Institute (STI) on July 17, 2010. The event was the closing ceremony for a four-week long STI program held in the Department of Technology at ECSU. Mr. Anthony Roper, NCDOT Deputy Secretary of Administration and Business Development was the guest speaker at the event. In his speech, Mr. Roper emphasized the role of STI program in preparing students for college education.
&quotAfter undergoing this summer program students have an edge that is required to be successful in college. A program such as the STI has a long term impact on professional growth of an individual&quot Roper said.
Sixteen high school students participated in the 11th STI program held at ECSU. Area youths from Camden, Chowan and Pasquotank counties apply for the program and were selected based on the grades and their interest in science and technology. Dr. Ellis Lawrence, a professor in the Technology Department, is the director of the Summer Transportation Institute at ECSU and. For 11 years, he has directed the program that brought high school students to ECSU for a challenging summer research program. The program, supported by grants from the Federal Highway Administration and the NCDOT, promotes careers in the transportation industry. Many of those careers call for strong skills in math, science and technology.
Since 2008 institute Dr. Kuldeep Rawat, an associate professor in the ECSU Technology Department, has served as the co-project director. He introduced students to applications of electronic control, microcontroller programming, and circuit design in autonomous control of the Unmanned Aerial Vehicles.
The Summer Transportation Institute rewards students for excelling in summer research projects, field experiments, and class projects. Lawrence credits the Federal Highway Administration and the NCDOT for funding a top notch program that excites students. The agencies provided $57,829 to fund the transportation institute and an additional $17,500 for undergraduate interns. Without the funding, Lawrence said the students could not have learned so much about the transportation industry.
&quotThe number of jobs in the transportation industry, aviation industry and in technology is growing. Those opportunities are available in North Carolina so we bring the students here for the institute to make sure our students are aware of them,&quot Lawrence said.
Rawat added that once students complete this program, they are more aware of how far the classes in math, science and technology can take them. This program proved to be more difficult than they expected but the challenge was good for them and they enjoyed it. This year's program focused on applications of computer-aided design, programming, electronics, math, and physics in transportation industry. Rawat said students were surprised by what they could do in a four-week summer program. When high school students complete a summer program like this one, they see how math and science can be applied to something that serves a common purpose.
The Summer Transport Institute would not have been complete without field trips to show students the progress pioneers made and the challenges and rewards professions experience each day. A trip to the Wright Brothers Memorial in Dare County provided an important historical lesson for the students. They also visited NASA Langley Research Center, the N.C. Department of Transportation (NCDOT) materials testing laboratory in Williamston, N.C., and the Glenn L. Martin Wind Tunnel Testing Facility in the Department of Aerospace Engineering at University of Maryland at College Park, Md. Guest speakers at these field trips highlighted career options in aviation for the youths.
The faculty team of Dr. Lawrence and Dr. Rawat was supported by three undergraduate interns: Mr. Clyde Rivers, a senior majoring in Industrial Technology Mr. Alexander Nwala, a junior majoring in Computer Science and Ms. Trizha Flowers, a sophomore majoring in Pharmacy. Rawat and Lawrence will accompany the college interns to the NC Department of Transportation (NCDOT) to present their research findings. The students will give a comprehensive presentation for an audience of NCDOT officials and research interns from nine of the state's Historically Black Colleges and Universities.
For more information about ECSU's Summer Transport Institute and its application process, please contact either Dr. Ellis Lawrence (eelawrence@mail.ecsu.edu) or Dr. Kuldeep Rawat (ksrawat@mail.ecsu.edu).
---