Summer Bridge Program Preps Freshmen for Future at ECSU
---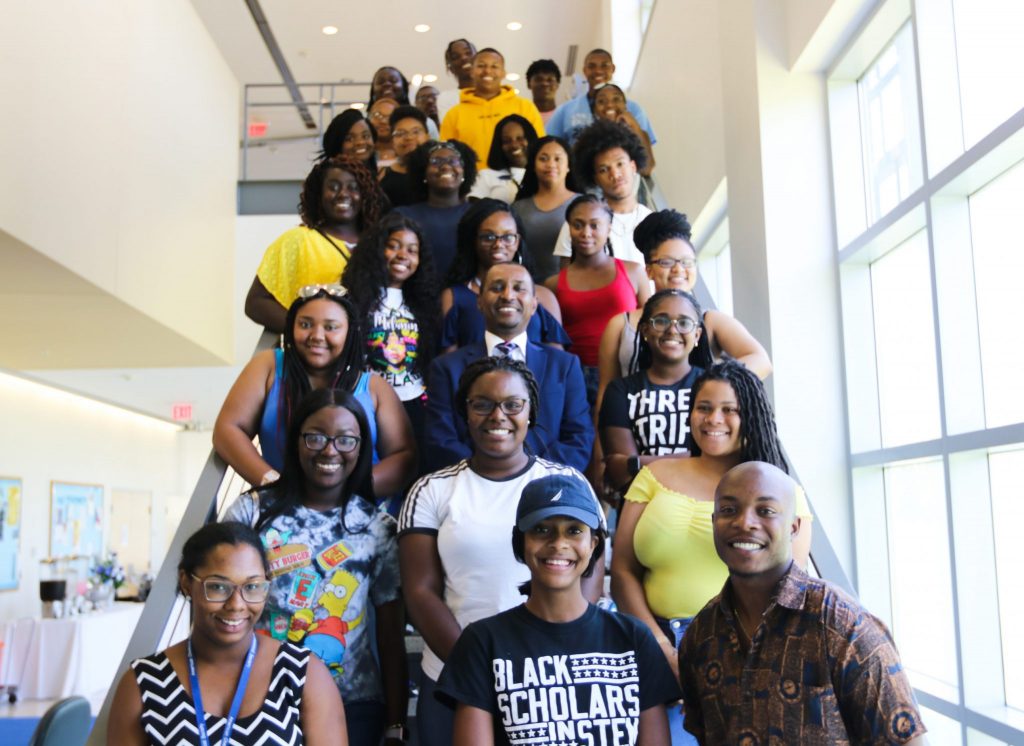 Twenty-seven incoming freshmen are enrolled in ECSU's summer bridge program. Tanayaha Bullock, second row from the bottom in the middle, says ECSU is her top pick school and she's excited to begin her studies in biology.
It's Sunday, June 23 and Tanagai Southerland sits inside the Pharmacy Complex lobby grinning. She says she's ecstatic about her daughter's future at Elizabeth City State University. She and her daughter, 17-year-old Tanayaha Bullock, are waiting for the CASER-ECSU orientation program to begin.
"I think this is wonderful," says Southerland of the orientation and summer bridge program. "It's something parents can come to and understand what's going on."
More importantly, perhaps, it's something the students can attend and learn about their future as ECSU biology or chemistry students, says Dr. Eyualem Abebe, an ECSU professor and CASER project director.
"This gives them a higher chance to succeed as first-year students," he says.
CASER stands for Comprehensive Academic Scaffolding to Enhance Retention. It is a program directed toward incoming freshmen minority students and it aims to help them succeed.
This year 27 incoming freshmen are attending the four-week program. Dr. Abebe says they will all live on campus and prepare for the coming 2019-2020 academic year.
The students will spend the next four weeks covering basics in biology, chemistry, mathematics, scientific literacy, and critical thinking. They will be aided by mentors who are either junior or senior students studying biology or chemistry.
Dr. Abebe says the student mentors have been assigned four-to-five freshmen each. The mentors are paid and throughout the next academic year will give the freshmen not only assistance with their studies, but also the benefit of their experience as ECSU students.
Dr. Abebe says that aside from giving these freshmen an academic leg up, the program also prepares them for life on campus.
"It gives students a chance to get to know one another," he says.
As an incoming freshman, Tanayaha Bullock is prepared for the rigors of academic life. Her mother says Bullock worked hard to finish high school early with an eye on enrolling in a university to study biology and eventually becoming a nurse practioner.
Bullock and her mother say she was accepted to a number of universities, but ECSU was the number one pick for the 17-year old.
"My mother had wanted me to go to Winston Salem State University but ECSU was my top pick," says Bullock.
Bullock has had her eye on ECSU since the fifth grade, she said. During her first year of middle school, she was given an assignment to research universities and do a report. ECSU was Bullock's pick for the report and she's been preparing to be a Viking since that time.
Despite originally having her eye on a different university, Bullock's mother says she couldn't be more pleased with her daughter's choice. And she's encouraged by the warm welcome they've received since arriving on campus early Sunday.
Dr. Abebe says that all of the parents are encouraged to be involved in their children's education, especially during their first year when they are going through a transition from high school to college student.
Southerland says this sort of inclusion in her daughter's education gives her confidence in ECSU. She says she's ready to be a part of the Viking family along with Bullock.
"Being a single mom, I'll be in her cheering section," says Southerland. "And I'll pray that she'll do what she's supposed to do and God will do the rest."
---