Study-Abroad Gives D'Kota Hinton-Louis a New Outlook
---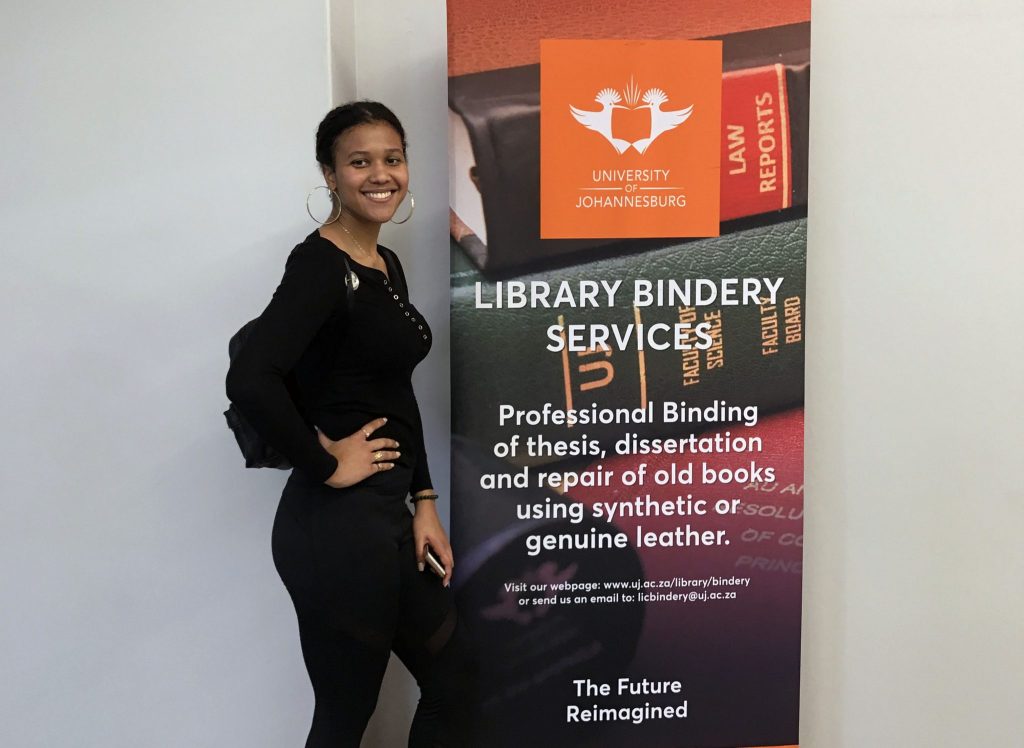 D'Kota Hinton-Louis stands next to a sign inside the University of Johannesburg, in South Africa. Hinton-Louis was ECSU's first-ever Gilman Scholar, receiving a full ride to study abroad for one month.
D'Kota Hinton-Louis's view of the world is changed forever. It's the sort of thing that happens when you first travel abroad. And in her case, it was a month long study-abroad trip to South Africa.
"It made me realize how small our problems here are," said the Elizabeth City State University junior. "Over in South Africa, there is a lot rape culture, and a lot of poverty. A lot of them don't have much and they are so grateful for what they have. I realized how much we take for granted the things we have here."
Hinton-Louis, a social work major, is the first ECSU student to be awarded a Gilman Scholarship. It is a full-ride scholarship that allowed her to spend the month in South Africa, learning about the culture, the history, and the people.
"The people and the culture, just to see it in person, it's a lot different than what we see on TV," she said.
Her study-abroad experience took her to Johannesburg, Cape Town, and Durbin. As a social work student, she was one of a group of 10 who not only toured the country, but also visited universities to learn a bit about their social work programs.
"For the universities, they would tell us about their programs and we would tour the college and learn about the curriculum, everything they required the students to do," said Hinton-Louis. "We visited a refugee camp for mothers and children, and schools in townships and talked to the students there."
And of course they toured museums, went on a wildlife safari, generally saw the sights. But it was the on-the-ground experience of being a student, and observing life there, that informed Hinton-Louis. Her insight into the world has been permanently altered, and she wants more of it.
"This definitely made me want to travel more," she said.
The experience also informed her efforts to be a social worker, and helped her understand the relativity of need from one country to the next.
"It teaches you a lot about yourself," Hinton-Louis said. "About myself, I feel like I learned more things that I like. It was interesting to experience things on my own. It also taught me that some problems are minor, and there is so much out there to do, so much opportunity."
A requirement of the Gilman Scholarship is writing an essay, and speaking to area public school kids, sharing her experience. She says the goal is to "expose them to the benefits of traveling around the world and motivate them to study abroad."
"I want to reach out to student-athletes and encourage them to study abroad," she said. "I feel study-abroad isn't promoted as much at HBCUs, as it is at other universities."
Hinton-Louis is a Las Vegas, Nevada native. She was recruited by ECSU to be a member of the Vikings volleyball team, and she is a member of the tennis team.
She says the green of North Carolina, compared to her desert home, is relaxing, and she loves the "Southern hospitality." However, once she graduates, she'll likely take her experience back home, as a social worker specializing in either hospital care or juvenile justice.
---