Students Join Faculty in Exploring Drone Research Applications
---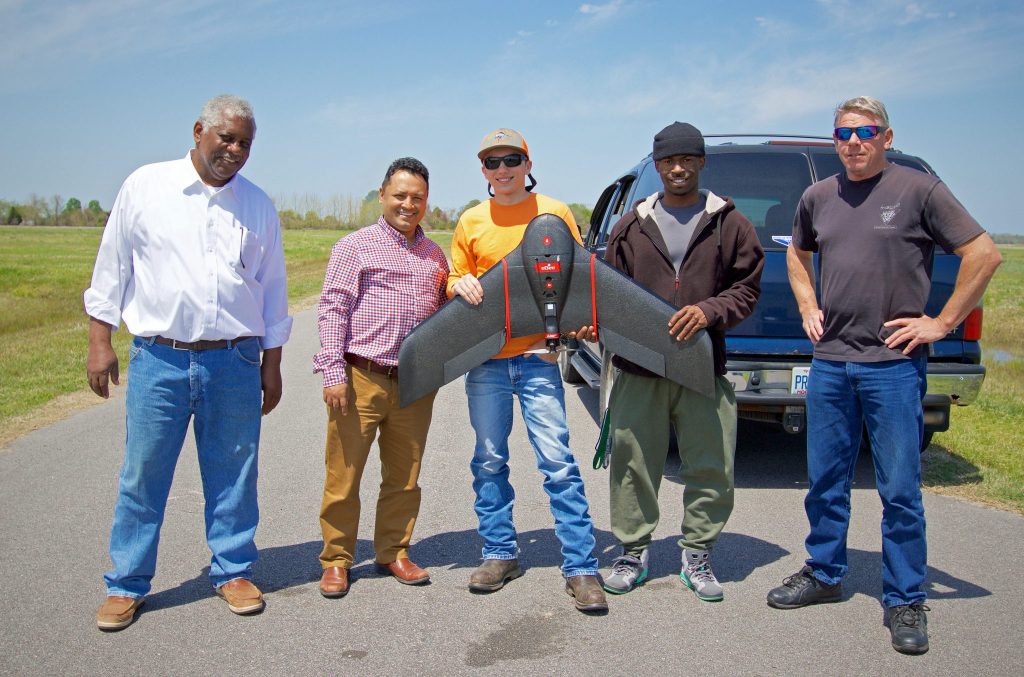 Undergraduate aviation students Weston Smith, center left, and Leon Davis, center right, join aviation faculty members Dr. Ellis Lawrence, far left, Dr. Kuldeep Rawat, second from left, and Aron Bechiom, far right, the drone lab technician and pilot, on a field test of various professional and research drones.
Two Elizabeth City State University undergraduate technology students joined the university's Aviation Research Team in the field last week, testing seven different research and professional grade Unmanned Aircraft Systems, or drones.
According to Dr. Kuldeep Rawat, chair of the technology department and director of aviation at ECSU, students Leon Davis and Weston Smith joined the team to deploy seven different drones during the research exercise. The team, he said, identified a site away from distractions and spent the day testing and performing thorough and detailed preflight checks, aircraft and sensor calibrations, mission planning and uploads, and launch and recovery.
The faculty team consisted of Rawat, technology professor Dr. Ellis Lawrence, and UAS lab technician and certified UAV pilot, Aron Bechiom. Together they performed over 10 flights, spanning from 10 minutes to 30 minutes, depending upon the mission size, sensor type, aircraft type, winds, and battery size.
The purpose of the mission, according to Rawat, was to collect data on the various drones for use in a variety of applications. He says three applications of the drone technology include agriculture, infrastructure inspection and digital mapping and planning for land management.
Preparation for the research flights required a day spent working with software, checking batteries, and examining the drones prior to flights. Rawat says the test site is then reviewed and simulations are performed to clear the way for the test flights.
"Then after the flight we spent our time processing the raw data," said Rawat. The students, he said, were given the opportunity to experience the entire process, gaining a firm understanding of what it takes to pursue a career in drone technology.
Rawat likes to point out that unlike the hobby drones most people are familiar with, a great deal of planning goes into preparing a professional and research drone, even for very simple missions.
"The responsibility for the safe performance and outcome by a UAS pilot is equal to that of manned aircraft pilots," he said.
And that is something students such as Davis and Smith are learning when they participate in these research field tests.
The aviation program will be launching its drone degree program in 2019. Currently students such as Davis and Smith are pursuing an aviation degree, but drone technology is an area of concentration.
When the bachelor's degree program is launched in 2019, Rawat says it will address the need for pilots and technicians in a growing career field. Drone technology is being employed in many areas of life today.
"The goal is to be the premiere public institution for UAS Education Applied Research, and Outreach," said Rawat.
---