Students Get a Lesson in 'Drunk Driving'
Posted On November 18, 2016
---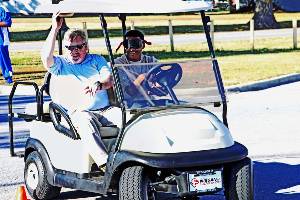 It might have been for a grade but when students from Dr. Lloyd Mitchell's Intro to Public Health and Sanitation class donned the "drunk" goggles last Thursday they also learned a valuable lesson about driving while intoxicated.
"We came together to get everybody aware of drunk driving and how serious it can be" said Elizabeth City State University junior Danielle Hill.
Behind the Vaughan Center where the Health and Wellness department resides in the parking lot students erected a tent set up tables and music and invited the Government Highway Safety Program's "Street Safe" team to show students just what it's like to drive drunk only without the alcohol.
As Hill attended to the tent and answered questions about the event classmate and ECSU's Mr. Junior Damion Spellman slipped on the goggles and got behind the wheel of a golf cart. Accompanied by a member of the "Street Safe" team Spellman began navigating a series of yellow cones set up as an obstacle course.
The purpose of the goggles is to obscure your vision mimicking the effects of drunk driving. While Spellman appeared to navigate the course well it was clear that he was struggling with the blurred and off-centered vision from the goggles.
Hill pointed across the parking lot to a stretch of grass where a cornhole board was set up. Students were also invited to toss beanbags while wearing the goggles hoping to land one in the center hole of the board.
"I couldn't see anything" said Hill of her attempt at cornhole.
Rickey Freeman ECSU's director of emergency management helped set up the course. He says the "Street Safe" program is staffed with retired law enforcement members who have experience with drunk driving incidents.
The class project was set up from 2 p.m. to 4 p.m. and provided any comers with the opportunity to learn firsthand of the dangers of drunk driving. According to Spellman his experience with the goggles was pretty convincing.
---