Students from the Music Department sing with 105 Voices of History HBCU National Concert Choir
Posted On September 27, 2011
---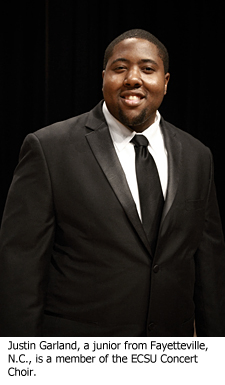 Kesha Williams
September 27, 2011
Dr. Walter Swan, an associate professor in Elizabeth City State University's Music Department and director of the university's concert choirs, repeatedly reminds vocalists that their education is a continuous process.
While their knowledge base is framed by the rigors of the university's degree programs, students' musical advancement is dependent upon applying their knowledge, talent and skills to the variety of songs they perform each year.
The University Concert Choir's numerous performances on campus, and at a host of events across the region, provide essential challenges for these budding performing artists. Yet, participation in choral events such as the 105 Voices of History HBCU National Concert Choir challenges students to perform at peak performance.
As the name suggests, 105 Voices of History is a national concert choir composed of 105 highly talented students chosen to represent Historically Black Colleges and Universities across the nation. Its aim is to develop and showcase the voices of HBCU choral programs while exposing students to new opportunities.
Two students from ECSU's University Concert Choir – Chameshia Coplon and Justin Garland — were chosen to participate in this year's event. In mid-September, Swan accompanied them to Washington for four days of music rehearsals and leadership workshops sponsored by the national nonprofit organization. The culmination was a Sunday afternoon concert, the fourth annual 105 Voices of History HBCU National Concert, which was held at the renowned John F. Kennedy Center.
Many students participated for the first time in the event, which has the support of numerous sponsors and partners. By participating, students learn new skills and sharpen those they already possess. According to organizers, the goal is to use the arts to showcase student talent while providing young adults with leadership and entrepreneurial training. Health awareness and financial literacy also are covered during the workshops. Swan says the entire experience is beneficial for students.
&quotThis experience certainly takes students out of their comfort zone,&quot Swan said. &quotThe size of choirs at each HBCU varies, but most students just don't have the privilege of singing with 105 students every week. It's also good for them to learn from conductors they have not met before.&quot
Coplon, a sophomore from New Bern, N.C., plans to earn an advanced degree after completing her undergraduate studies at ECSU. She then wants to teach in a North Carolina school system. She said participating in 105 Voices of History was eye opening.
&quotThe experience was different because I'm used to being in small choirs where there are one-on-one lessons if necessary for you to learn your part. There, everyone had to sight read&quot the sheet music, she said. Three-hour workshops were followed by rigorous rehearsals.
&quotIt was a good experience because you don't ever want to get too comfortable where you are. You want to branch out,&quot Coplon said. &quotI enjoyed the networking and learning to sing as one big choir.&quot
She said they also learned about different leadership styles. &quotSome leaders are delegators, but others are participative leaders,&quot she said.
Garland, a junior from Fayetteville, N.C., has been a member of the ECSU Concert Choir for two years. Each year, he says, his confidence grows and he continues striving to reach the level of excellence that has been a tradition for ECSU choirs. He was proud to say his instructor, Swan, is preparing students well for challenges like the 105 Voices of History.
&quotIt was good to learn so much about the history of African-American music and leadership. It was very exciting to have 105 voices to sing so much music — from classical music to spirituals. That experience was just awesome, having 105 come together,&quot Garland said. &quotIt was history. You work hard in your university choir and hope your director will see your potential. So it was great to be selected and meet so many talented students at this event.&quot
---