Students complete living and learning experience in India
Posted On August 12, 2013
---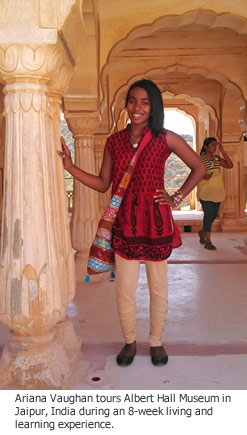 Kesha Williams
August 12, 2013
Ariana Vaughan recently returned from her first trip abroad. The 19-year-old Elizabeth City State University sophomore declares the eight-week living and learning experience in Jaipur, India, an incredible addition to her undergraduate education. She now reads and writes well in Hindi, the sixth mostly widely used language in the world.
&quotIt was a great experience,&quot said Vaughan, a native of Ahoskie, N.C., who was captivated by the cultural differences in India that included everything from attire to personal space. &quotIn India, there were no boundaries. Many Indian natives would approach me for pictures and would even touch me. Others just stood and starred in utter amazement.&quot
&quotHowever, after conversing with them, I realized they were not used to seeing African Americans and they were mostly accepting and eager to find out more about us.&quot
Following this cultural immersion trip, Vaughan said she is eyeing career options in the U.S. diplomatic corps or in clinical social work helping immigrants adjust to the United States.
Her trip resulted from ECSU's participation in a project launched by a consortium of four Historically Black Colleges and Universities that is funded by the Office of the Director of National Intelligence and the Defense Intelligence Agency. Morgan State University is the lead institution for the Mid-Atlantic Consortium Center for Academic Excellence (MAC-CAE), while ECSU, Norfolk State University and Bowie State University are partners.
At ECSU, the directors of the MAC-CAE project are Dr. Shahid M. Shahidullah, professor and chair of the Department of Criminal Justice, Sociology, and Social Work Dr. Vandana S. Gavaskar, associate professor in the Department of Language, Literature and Communication and Dr. Murel M. Jones, dean of the School of Arts and Humanities.
One of the major goals of the project with MAC-CAE scholars, as the students are known, is to educate and train a new cadre of students from diverse backgrounds to pursue careers with the nation's key intelligence agencies, including the Office of the Director of National Intelligence, the Defense Intelligence Agency, the Department of Homeland Security, the Department of State, Central Intelligence Agency, Army Intelligence, Air Force Intelligence, Navy Intelligence, the Federal Bureau of Investigation and the National Security Agency.
&quotWe are pleased to be part of the MAC-CAE consortium,&quot said Dr. Shahidullah, who noted the MAC-CAE consortium's important role in internationalizing ECSU's global studies and national security curriculum. As a result of the project, ECSU has introduced courses on Hindu language, Hindi 101 and Hindi 102 a speaker's series on international security issues a pre-college summer program for high school students a research program on Human Terrain Systems in South Asia and a study abroad program in India.
The project received an initial $1.8 million grant to train and educate MAC-CAE scholars for four years. At ECSU, the scholars study national security issues, take language courses, participate in national security colloquia, serve as interns in various intelligence community agencies and travel abroad for cultural immersions. The consortium is focused primarily on national security issues in South Asia — India, Pakistan, Bangladesh, Nepal and Sri Lanka.
To date, four ECSU students have traveled to India for the cultural immersion program. Vaughan and Ama Agyapong, an aviation science major, spent from May 16 to July 12 studying and traveling in the South Asian country, while Quanisha Jones, a sociology major, and Stephanie Perez, a biology major, traveled and studied there in summer 2012.
Vaughan and Agyapong were among 10 students from the consortium studying at the American Institute of Indian Studies. The pair shared stories about their experience with high school students participating in a MAC-CAE pre-college program at ECSU from July 22 through 26. They said their perspectives are much more globalized as a result of their experience.
ECSU Chancellor Charles L. Becton, in addressing the pre-college workshop students, emphasized the value and importance of studying abroad in today's global climate and in meeting the nation's security challenges in the 21st century.
---