Students Celebrate First-ever Viking Spirit Awards
---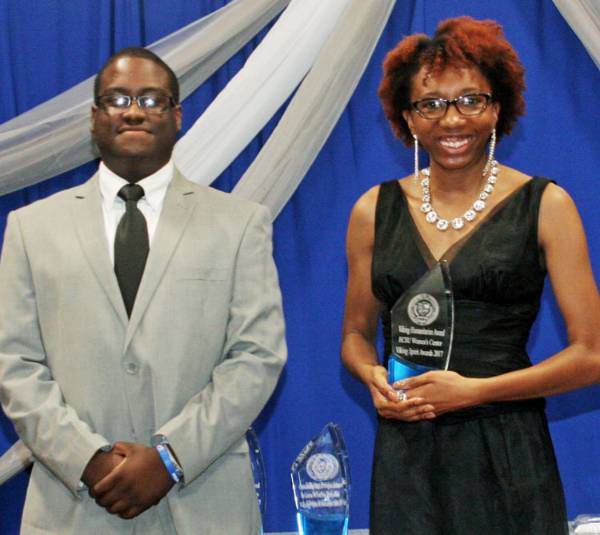 It was an evening of Viking Spirit a first-ever event for the students of Elizabeth City State University. The Viking Spirit Awards Banquet hosted by the Student Government Association recognized students faculty and staff for outstanding contributions to the ECSU community during the 2016-2017 school year.
Student Government Association President Ajanae Willis emceed the event along with Edward Colson featuring performances by student musicians and presentations that not only included the numerous awards but also the acknowledgement of faculty and staff as well as recognition of the upcoming 2017-2018 SGA members and Viking Royal Court.
In all fourteen awards were given throughout the evening.
· The Unsung Hero Award: Joshua Scott
· Viking Visionary Award (for entrepreneurship): Camaria Flowers
· Viking Humanitarian Award-Individual Student: Ashland Tann
· Viking Renaissance Award: James Staton
· Viking Humanitarian Award-Organizations: ECSU Women's Center
· Outstanding Student Organization: Gamma Sigma National Service Sorority and Nu Gamma Psi Fraternity Incorporated
· Outstanding Student Organizational Program: Krimson Kourts Incorporated
· Viking Pride Award: V.A.N.S.
· Outstanding Student Organizational Leader: Cerrano Smallwood
· Viking Spirit Award: Darius Witherspoon
· Organizational Advisor of the Year: LaQuisha Mayfield
· Faculty Member of the Year: Dr. Josiah Sampson
· Staff Member of the Year: Eric Poyner
· Viking Spirit Award-Staff/Faculty Member: Makitta Whitehurst-McLean.
Two special awards were also given toward the end of the evening. The Viking Vision and Victory Award was given to both the Office of the Chancellor and the Office of Student Engagement for their service to the university and students.
The SGA also donated $1000 the athletic department to assist with non-revenue sports.
---