Students and Faculty Present Research and Cultural Experience at Annual International Education Week Forum
Posted On November 21, 2019
---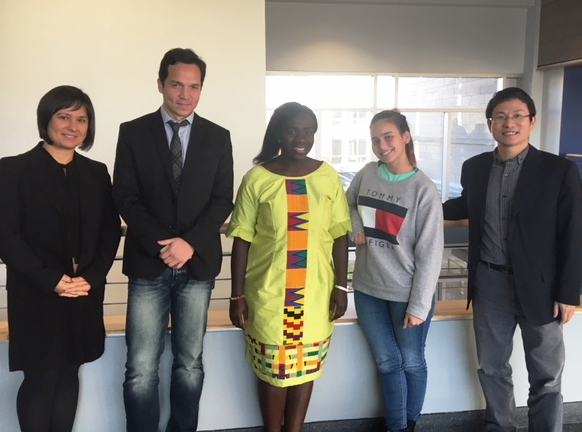 The International Education Week forum featured, left to right, Nurhak Tuncer, , Dr. Walter Iriate, Erica Acheampomaa, Beatriz Neto, and Dr. Xiaoli Yuan.
As Elizabeth City State University's International Education Week continues, more and more students, faculty, staff and community members are showing up for events. On Wednesday, Nov. 20, 112 people attended the annual International Forum.
The forum features talks by faculty and students that highlight their experience in the world, as well as scholarly work that highlights issues from countries and cultures around the world.
Dr. Walter Iriarte, assistant professor of digital media, presented, "Droning in the Waters: Understanding Chilean Culture through Drone Cinematography." Examining Chile from the sky with the latest in drone photographic technology, Dr. Iriarte is able to create a visual experience from a bird's eye view.
Students who have attended media showcase events are familiar with Dr. Iriarte's drone cinematography and know the skill of his camera work.
Business administration major Beatriz Neto is an international student from Portugal. Her presentation was titled, "From Portugal to the United Nations Headquarters."
Ms. Neto came to ECSU from Portugal for what she says is a great business program and to be a member of the tennis team. Since arriving on campus, she has become involved with a group of students led by fellow student Franck Yao in an effort to become a United Nations youth ambassador.
During her visit to the U.N. in September, Ms. Neto became a participant in the United Nations Climate Action Summit and Conference.
Ms. Erica Acheampomaa is a social work major. Her presentation was titled, "The Year of Returning to Ghana."
Ms. Acheampomaa is a native from Ghana and has been living in the United States for nearly seven years. She currently serves as a Chancellor's Ambassador, recently participated in ECOSOC Youth Forum at the United Nations, and is a recipient of the Vice Chancellor of Student Affairs Award during the 2018-2019 Viking Spirit Day event.
"My goal and dream is becoming a global health educator or do international social work," she says.
Ms. Nurhak Tuncer is the ECSU music librarian. Her presentation was titled, "An Aegean Island, Chios."
Ms. Tuncer is a native of Izmir, Turkey. She is an active member of the American Library Association, Music Library Association, and the International Music Library Association.
She is currently the project manager for NC DOCKS digital repository at ECSU.
Dr. Xiaoli Yuan is a professor and account program coordinator. His presentation was titled, "GiG Economy and China."
GiG economy refers to the rise of a technology-based, independent workforce. It is a growing trend in a changing workforce, focusing on short-term, contract-based working arrangements.
Dr. Yuan is a registered Certified Public Accountant and "enrolled agent" with the IRS. His research interests focus on accounting and taxes.
The next International Education Week will happen Thursday, Nov. 21 at 6 p.m. It is International Movie Night. The event is free and open to the public.
The 2019 International Education Week will end with the highly anticipated International Dinner and Fair. The event will happen Friday, Nov. 22, in the Ridley Student Center at 6 p.m.
---