Student researchers and NASA scientists close research week
---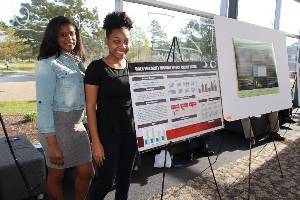 By Kesha Williams
ECSU is not only celebrating 125 years of public education, but 125 years of standing as a beacon of light, hope and information for the community. Research Week 2016 was another example of the ways professors and students gather and produce a plethora of information for public review.
Whether area teachers visit Research Week events to develop ideas and propose science projects for their students or area school youths attend to view poster displays completed by ECSU students, the week is an unmatched event. The series included roundtable discussions on the value of internships, a science bowl competition, a presentation of African American scientists, a coastal hazards workshop, a jazz concert, Library Week presentations and more.
On Friday, students from six area middle and high schools arrived in time to review over 50 research posters completed by ECSU students. Their posters reflected either topics covered during a recent semester or a research project topic explored during a summer internship. Topics included: Women in the Workforce: Cases of USA, Ethiopia, and India Investigating the Security Risks and Vulnerabilities of an Android System McDonald's Marketing Blend Starbucks and Social Media Changing Immigration in the USA, Belgium and Germany and, The Power of Demographics.
In addition, the youth met representatives from NASA Langley Research Center. Students and teachers connected remotely to the center where they heard Dr. Karen Long discuss space survival including nutrition, clothing and habitat. Other NASA exhibitors shared lithographs, posters, calculators and decals with the youth. Guests from NASA Langley included: Dr. Gamaliel &quotDan&quot Cherry and Samuel James, ECSU alumni Dr. Erica J. Alston, a computer engineer for NASA Langley, was the distinguished speaker for the day.
---