Student Persistence Rate Rises as ECSU Keeps Vikings Engaged
Posted On September 1, 2020
---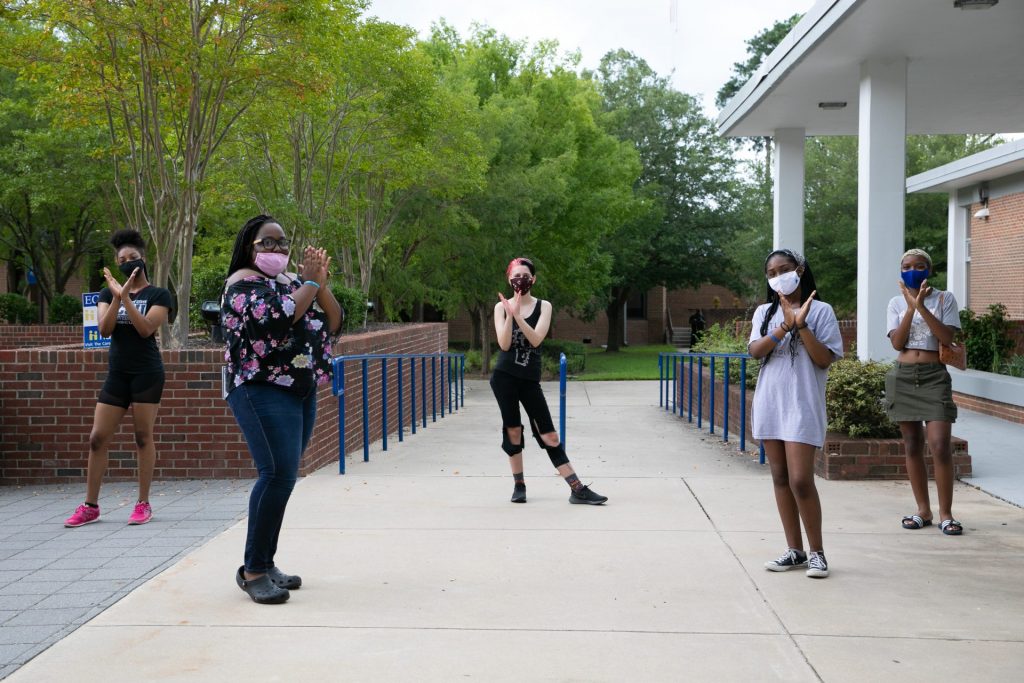 In spite of the challenges presented by COVID-19, Elizabeth City State University Vikings have risen to the occasion, marking a record fall enrollment and a record persistence rate – returning students – at 84.7 percent.
The efforts of University Studies along with the outreach of staff in the Division of Student Affairs, including their work with student success programs, have kept the Viking spirit alive as students have worked from home and are now back on campus, successfully social distancing and following health and safety guidelines. ECSU's support services, the resilience of student leaders, the Vikings Engage app, online mental health counseling, and even virtual town hall meetings have all served to keep students informed, healthy and on track for academic success.
"Our staff, faculty and student leaders are actively engaging the campus despite the recent challenges presented by the pandemic. Vikings have shown strong character, caring, and fortitude as we navigate this new normal," said Chancellor Karrie G. Dixon.
According to Student Government Association president, Jimmy Chambers, Jr., keeping fellow students engaged is key to giving Vikings the confidence they need to push forward. The SGA, he said, has been working to keep the Viking Spirit alive, even through virtual contact with students.
"You have to keep them engaged," he said.
The Campus Activities Board is typically planning any number of in-person events but now they've gone virtual, said CAB president, Josiah Burnett.
"We want to give everybody an experience as close as possible to what they would have had," said Mr. Burnett.
Even Miss ECSU, Mekayla Stokley, has been working since last semester to keep students engaged and make certain that their experience as students is academically and socially as strong as possible, given the circumstances.
She says last semester, although she was not yet the official 2020-2021 Miss ECSU, she worked to keep students informed and engaged. And while no one could have been certain about a return to campus due to concerns over the COVID-19 virus, once the plans were put in place, Ms. Stokley said it was apparent to her and other students that ECSU could handle it.
"I do believe that ECSU was prepared for us to come back," she said.
As students looked at returning to campus, their confidence in ECSU's ability to handle health and safety was boosted with the launch of the Viking Compass webpage. Designed to give current COVID-19 information, and updates on active cases of the virus on campus, it is a signal to Vikings that the value of their education extends well beyond the quality of their academic experience.
As the pandemic sent students home last spring, and anxiety over working remotely or even returning to campus mounted, ECSU's counseling services understood that the mental well-being of students is a top priority. While students had virtual counseling services available last spring and throughout the summer, it was towards the end of the summer that the Therapy Assistance Online program was launched, according to the director of counseling services, Jody Grandy.
"It provides educational tools for people having high level of anxiety and depression," said Ms. Grandy. "There is a large library of mindfulness techniques to help you cope and develop a happy place and minimize anxiety."
Keeping students engaged in a virtual world means apps. The Vikings Engage app, according to ECSU's executive director of the Office of Student Engagement and Leadership, Ferreli McGilvary, helps students stay organized, stay on track, and stay involved.
"It's likened to well-known social media platforms, but one that is private for the ECSU community," said Mr. McGilvary.
According to the ECSU vice chancellor of student affairs, Gary Brown, campus support services have played an important role in student persistence. Support services units such as Student Accessibility and Testing Services, which is led by Felicia Brown, worked throughout the summer to assist students who need accommodations based upon pre-existing conditions.
"Another example is Gloria Brown and her team in Student Health who worked this summer to develop testing protocols and interface daily with the local health department to ensure our students are as safe as possible," said Mr. Brown.
Assistant Dean of Students Tiffany Hinton held two virtual events over the summer, talking to students about social unrest and societal justice. And Tim Freeman and Wilhelmina Godfrey in Military and Veterans Affairs have been maintaining contact with active military and veteran students to provide them with whatever assistance they might need to be successful ECSU students.
ECSU staff has also been working hard to give students and parents virtual access to needed resources such as financial aid, admissions questions, and students accounts. While much of the staff at ECSU is on campus, students and their parents have virtual access to all of these services, and staff from each office is working to respond to inquiries and the needs of all Vikings.
---