Student entrepreneur Maurice Carpenter is making music
Posted On October 18, 2016
---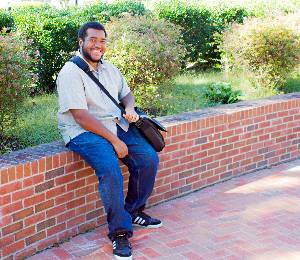 Elizabeth City State University senior Maurice Carpenter has a plan. Although the sound recording major has yet to graduate, he's already setting in motion what he hopes will be his future beyond ECSU.
This past summer Carpenter launched Black Gold Records a recording company he says was a part of his post-graduation plans.
"It was an idea started in high school," says the Washington D.C. area native. "I came to college knowing I would start my business out of college."
But circumstances led Carpenter to fast-tracking his career and now his label is about to release its first CD, "Blu 22," featuring neo-soul R and B artist Marresa Love.
Carpenter isn't simply putting together a CD. He's creating a business model that includes a team of 15 people in what he calls Black Gold North and Black Gold South. North is Washington D.C. where some of his team members live and work. South is here, in Elizabeth City.
Black Gold Records consists of a marketing team, a business team, a You Tube team and four recording artists. The artists are Love, jazz saxophonist David Nichols, hip hop artist Laron Melton and gospel performer Danisha Downing. Each of these artists will be featured on their own CDs, highlighting their original material. And all of these musicians are ECSU students.
For Carpenter's part, although he's a sax player in the Mighty Vikings Marching Band, he's a businessman, an entrepreneur who is very interested in pursuing his dream of being a music business success story. And that success, he says, also includes producing shows.
"Over the summer we had three different shows where we got to work with members of CBN (Christian Broadcast Network)," said Carpenter. "They brought a play down here (to Elizabeth City). We did their sound we helped with lighting and also organizing the event on campus. The show brought in 786 people that day."
Carpenter says his early-launch success of Black Gold Records is in part due to his experience here at ECSU. He says professors such as former band director Tanisha Brock helped him organize his plan, and develop ideas.
"She allowed me to understand that maybe I should continue and build it right now," said Carpenter.
Other faculty and staff members have contributed to Carpenter's success as a student entrepreneur. He says it is because of their dedication to ECSU, and their interest in him as a student, that he is able to pursue his dream.
The CD, "Blu 22" will go on sale through local retail outlets.
---