Stell Named CIAA Newcomer of the Week Two Weeks Running
Posted On November 28, 2017
---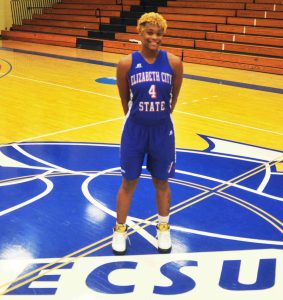 The Central Intercollegiate Athletic Association named Elizabeth City State University's Devona Stell Newcomer of the Week for the second consecutive week.
The 6'3", sophomore forward recorded her third and fourth double-doubles on the season this past weekend during the Conference Challenge in Fayetteville, N.C. The Atlanta, Ga. native tallied 18 points and 12 boards in ECSU's 79-53 loss to host team Fayetteville State University and added 22 points and 10 boards in the Lady Vikings 73-55 win over Saint Augustine's University Saturday afternoon.
Stell shot 54.2 percent from the field and 73.7 percent from the foul line for the weekend. She also finished with 22 boards.
Elizabeth City State women's basketball is set to travel to Mount Olive, North Carolina to face Mount Olive Wednesday, Nov. 29 in Kornegay Arena at 6 p.m.
Follow Elizabeth City State Athletics via its official website at: www.ecsuvikings.com to get pre and post-game stories and updates. Like us on Facebook at: ECSUVikings Athletics and follow us on twitter at: @ECSUVikings
---