Staying Clear on Cleary: Student Safety Top Priority
---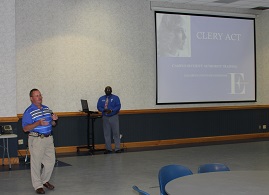 As students begin to return to the campus of Elizabeth City State University, their safety is a top priority for staff and faculty. That's why during a workshop Tuesday, August 09, 2016, Capt. Mike Boone of the University Police Department reminded the ECSU community just how important The Cleary Act is to students, and them.
Boone, the campus Cleary Compliance Officer, explained that a federal mandate requires that all universities provide a record of criminal activity on campus by Oct. 1 of each year. The campus also provides a record online, allowing anyone to search back over several years.
"You can go on our website and go back about three years and see every crime committed," Boone said.
The good news for ECSU is there have been no serious incidents of crime reported in recent years.
Boone emphasized that anyone on campus with knowledge of a crime, or alleged incident, should report it. Faculty and staff who have direct relationships with students are viewed as a "Campus Security Authority," or CSA.
"Those of you have a relationship with a student are a CSA," said Boone.
Boone explained that all crimes should be reported to authorities. He said crimes that take place on campus, on public property adjacent to campus, and university owned property should be reported to University Police. Crimes to be reported range from homicide, sex offenses (rape, date rape, sexual assault), robbery, aggravated assault, motor vehicle theft, arson, and burglary.
"Burglary is probably one of the main things we see on campus," Boone said.
Dorm rooms, he said, are easily the subject of burglaries. Prevention, Boone said, starts with, "locking things up."
Other crimes to be reported, said Boone, are hate crimes. Those range from crimes related to race, gender, sexual orientation, ethnicity, or disability.
To report a crime, contact the University Police Department at 252-335-3266. To report a crime anonymously, go online to the university website under the University Police tab.
So what happens once a crime is reported on campus?
"Come tell us and we'll take care of it," said Boone.
---