Sports Hall of Fame inducts four in 2015
Posted On October 9, 2015
---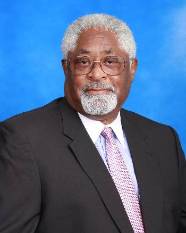 There's no time like homecoming to reflect on the student athletes who led us victory.
Dr. Claudie Mackey, co-founder of the Elizabeth City State University Sports Hall of Fame, will welcome a crowd to the K.E. White Center on October 16 to reflect on the era when our inductees outperformed their competitors. Three of the inductees played football and one was a champion wrestler.
Calvin Webster, was a four-year letterman who played defense for the Vikings between 1964 and 1967. He earned "Rookie of the Year" as a freshman. He was an alternate kicker for his team. Webster died in December of 2012.
Gary Moore was an outstanding wrestler for the Vikings for four years. He served as co-caption of the team during his senior year when they won the university's fourth Central Intercollegiate Athletic Association championship.
Tim Johnson was a four-year letterman for the football team between 1989 – 1992. During his senior year he selected as an ALL-CIAA quarterback.
Demetrius Hardison was an offensive lineman for the Vikings between 1989 and 1992. He played center as a senior and was named Offensive Team Captain for the Vikings. Hardison was also named to the ALL CIAA Football 1st Team in 1992.
Hall of Fame candidates are selected from all sports offered in the past at the university. There are 13 members of the selection committee and two screening members assisting with the organization of this annual event. Tickets, $30 per person, are available for advance purchase. Contact Dr. Mackey, 335- 3479, to purchase them. A limited number of tickets will be available at the event entrance door.
---