Spellings to Working Group: 'We Are Making Progress'
Posted On February 9, 2018
---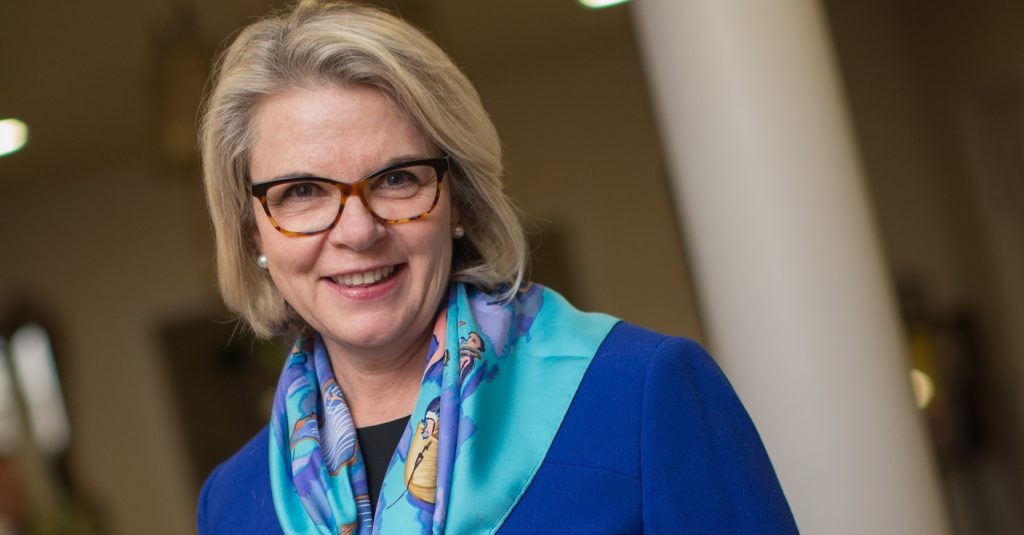 UNC System President Margaret Spellings, participating in the most recent Elizabeth City State University working group meeting, told members she is "feeling good" about the progress the university is making in recent months.
The Elizabeth City State University's efforts to grow and build a solid foundation for the future are on track. That was the word during a recent working group meeting held Wednesday, Feb. 7.
"We are making good progress. I am feeling good about it," said University of North Carolina System President Margaret Spellings. Spellings attended the bi-weekly meeting via teleconference, as did a number of other group members.
This is the second working group formed by Spellings. Its creation was announced last October, "To take stock in where we are," and develop a plan for the future.
The group, which is led by ECSU Chancellor Thomas Conway and UNC System Vice President of Academic and Student Affairs, Dr. Karrie Dixon, listened to reports from various ECSU departments, and reported on progress being made toward the advancement of the university's efforts to grow and thrive. Provost Vann Newkirk told the group that one area which is thriving is aviation.
Thanks to stabilization funds provided to ECSU by the North Carolina General Assembly, the aviation division of the Department of Technology is moving forward with the expansion of its programs. Newkirk said one of the big advancements is the purchase of new aircraft.
"We will have four aircraft by April, for the aviation program," he said.
Other purchases, he said, are being made, and the program will be expanding.
According to ECSU's Chief Financial Officer, Josh Lassiter, the general assembly earmarked $2.8 million in stabilization funds. Lassiter said while some concern had been expressed regarding a slow spending pace, efforts to use the money to advance ECSU have picked up after the development of a spending plan.
At this time, Lassiter said, ECSU has spent more than $1 million of the funds.
"I'm really satisfied with our progress," he said.
Lassiter also reported on the progress of the USDA loan. The $20 million loan, he said, is on schedule.
According to Lassiter, half of the loan amount, according USDA guidelines, must be used for renovation purposes. The other half will be used for refinancing existing ECSU debt.
Plans for the funds include fully renovating two campus dorms. However, Lassiter said that while $10 million would be available, recent revelations indicate that the condition of the dorms will demand more funds if two are to be completed.
"$10 million will not get us to the second dorm," he said.
ECSU's admissions head, Dr. Althea Riddick, told the working group that admission and enrollment efforts are moving forward and the number of admissions is up over last year.  Riddick told the group that 10 percent of the high school students attending the alumni-sponsored Open House, held on Feb. 3, applied for admission to ECSU.
In addition, she said a number of events will be held, including during the CIAA Tournament week in Charlotte next month.
Riddick said her department is also collaborating with ECSU Board of Trustees Chairman, and working group member, Kim Brown, on bringing Virginia-area high school students to a Feb. 17 open house on campus. High school students from ECSU's 21 regional counties will also be invited and Riddick says more than 200 students are expected to attend that event.
Riddick says that 87 percent of the students who make up the new incoming class for fall 2018 will be admitted between February and August. She says admissions efforts are moving forward.
"We are on target," she said.
The working group consists of three Board of Governors members and three Board of Trustee members. They will meet again Wednesday, February 21, 10 a.m. in the Chancellor's Board Room on the third floor of the Thorpe Administration Building.
---