Social Work Lecture Series Puts Focus on Gambling Addiction
---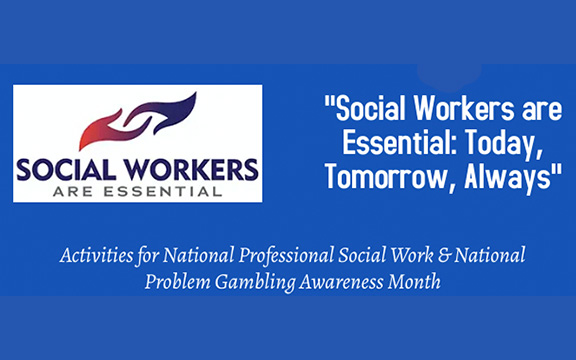 Elizabeth City State University's Social Work Program is recognizing National Social Work and National Problem Gambling Awareness Month with a series of virtual lectures.
According to Social Work Program professor, Dr. Kim Downing, the month-long series, "Social Workers are Essential: Today, Tomorrow, Always," kicked off with guest speaker Cam Adair. Mr. Adair, a nationally recognized expert on gambling, talked about "The Quicksand of Gaming and Gambling."
"Mr. Adair shared his personal experiences with gaming addiction and his journey to recovery," said Dr. Downing of the March 2 lecture. "The students found the presentation informative and they were engaged as this topic resonated with the current trends of increased interest in gaming among young adults due to being confined to their homes because of COVID-19."
Dr. Downing said 60 students and community members participated in the lecture.
Last fall, ECSU received a $5,000 grant from the North Carolina Problem Gambling Program to assist students with issues arising from gambling. Dr. Downing said that while no specific issues have been identified with ECSU students, the purpose of the grant is to provide education and assistance.
The grant provides funds for a marketing campaign, which includes public service announcements and programs such as Mr. Adair's March 2 lecture.
Dr. Downing serves as the grant's principal investigator and works collaboratively with Dr. Melody Brackett, Dr. Jacqueline Huff, and Felicia Brown to provide assessment and prevention services on campus
Additional activities can be accessed on Zoom. The meeting ID is 701 753 9501. The activities for March are:
Thursday, March 11,3:30 – 4:30 p.m. Dan Trolaro, a national speaker and expert in gambling, will speak on "Gambling and College Students: A look at gaming, gambling, sports betting, and emerging trends."
Wednesday, March 24,3:30 – 5 p.m. – Social Work Program Alumni Panel.
Tuesday, March 30, noon – 1 p.m., Dr. Sonyia Richardson will give a lecture titled, "Essential and Electrified: The Awakening of our Profession."
Wednesday, March 31, 4 – 5 p.m., Kennetra Brackett, LCSW, M.Div., will discuss "Palliative Care Social Work ."
---