Six to be Honored with Chancellor's Legacy Award March 7
Posted On February 7, 2020
---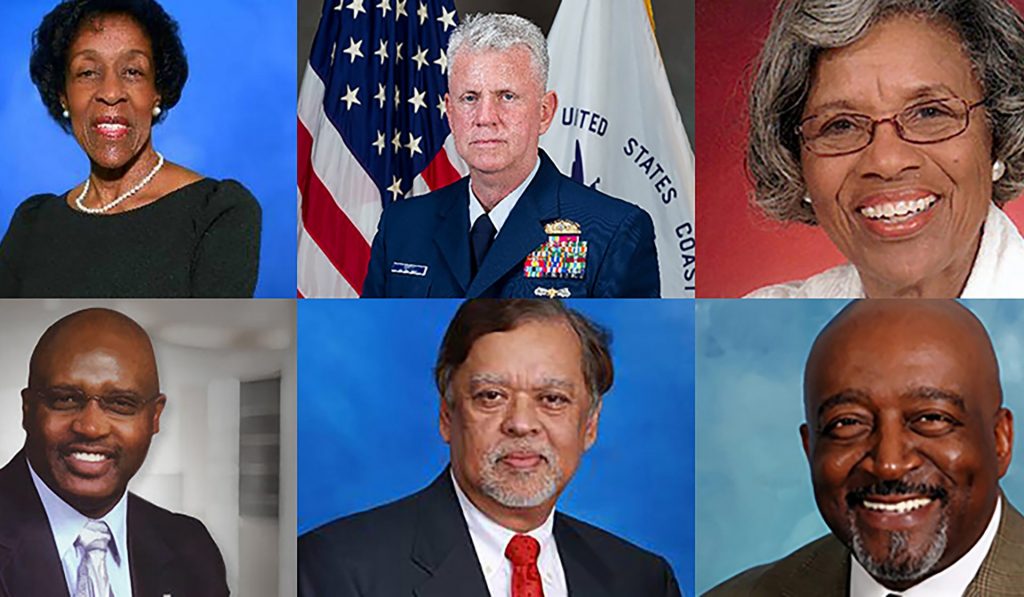 This year's Chancellor's Legacy Award honorees are, clockwise from the top, Ziner Johnson Alexander, Rear Adm. Keith Smith, Ethel Sutton, Emmanuel Harris, Dr. Ali Khan, and Rasheed Sm Abdul.
The 13th annual ECSU Foundation Gala will be held March 7 at the K.E. White Center, honoring six individuals who have played significant roles in supporting the university. This year's Chancellor Legacy Award honorees are Ziner Johnson Alexander, Emmanuel D. Harris, Dr. Ali Khan, Abdul Sm Rasheed, Rear Adm. Keith Smith, and Ethel Faye Gregory Sutton.
Ziner Johnson Alexander, '66
Retired ECSU IT Manager
Alumni Relations & Engagement
Ziner Johnson Alexander is a 1966 graduate of Elizabeth City State University and retired university IT manager who also worked in alumni relations and engagement.
She is the oldest of three siblings, all of whom are ECSU graduates.
Ms. Ziner received a Bachelor of Science degree in Business Education. She went on to earn certification in various IT systems and began her career at ECSU in 1967 until her retirement in 2006.
She has received numerous awards, including the Distinguished Alumni Award from the National Association for Equal Opportunity in Higher Education (NAFEO). As a life member of the ECSU National Alumni Association, Inc. and an active member her local chapter, Ms. Ziner is being honored for more than 50 years of involvement and financial support.
Emmanuel D. Harris
Retired CEO of Harris & Associates, LLC
ECSU Foundation Services
Emmanuel D. Harris is a Camden County, N.C. native, born on a tenant farm and raised by his grandparents, Sam and Nancy Harris. He is the first person in his family to graduate from college, earning a bachelor's degree in economics in 1971 from the Tuskegee Institute, and an MBA in finance from the University of Indianapolis in 1981.
He is a member of the ECSU Foundation Board of Directors where he served on the finance, audit and investment committees for over 20 years. He has also served as a member of the University of Indianapolis Board of Trustees since 1996.
Mr. Harris and his wife of more than 50 years, Jeri, grew up using the playgrounds and the library at ECSU throughout elementary and high school, when other facilities were not open to them. Because of this, they both hold a great appreciation for ECSU, even though neither attended the university.
They have shown their gratitude through their financial contributions and support of the university over the years. Mr. Harris also gives back with lectures on investing and personal finance in business and investment classes in an effort to bring more African Americans into the financial services industry.
Dr. Ali A. Khan
Retired Administrator
ECSU Provost & Vice Chancellor for Academic Affairs
Dr. Ali A. Khan is a retired ECSU provost and vice chancellor for academic affairs. He joined ECSU as an assistant professor in 1980 and was promoted to professor in 1994, serving the university for almost 40 years.
Dr. Khan held various leadership positions, including assistant and associate vice chancellor for academic affairs; interim dean of the school of mathematics, science and technology; and director of summer school, weekend/evening, continuing education, graduate studies and pharmacy.
Dr. Khan also served in various leadership and membership roles that include chair of the ECSU faculty senate; chair of the UNC faculty assembly planning and programming committee; member of the Title II teacher quality panel for the NC Department of Public Instruction; member of the UNC-GA committee on non-tenure track faculty; member of the UNC-GA task force on serious illness and disability policies for faculty; and member of the UNC-GA summer programs committee. Dr. Khan also served as the ECSU campus liaison for the UNC Tomorrow Initiative.
In recognition for outstanding service and performance, Dr. Khan received the Tom Joyner Distinguished Hardest Working Faculty Award in 2005.
Dr. Khan earned his bachelor's and master's degrees in Pharmacy from the University of Dhaka and a Ph.D. in Pharmaceutical Science from the University of Grenoble.
Abdul Sm Rasheed, '71
Retired CEO
Community & Economic Development
Abdul Sm Rasheed is a 1971 ECSU graduate and current president of the ECSU National Alumni Association. He was the co-founder and former CEO of the North Carolina Community Development Initiative and Initiative Capital, a US Treasury Certified Development Finance Institution.
Currently, Mr. Rasheed serves as senior advisor to the CEO and Board of Franklin-Vance- Warren Opportunity (FVWOPP, Inc.), a $9 million community action agency serving four counties. In 2016-2017, Abdul served as CEO of WildAcres Leadership Initiative and its signature William C. Friday Fellowship for Human Relations program. From 2014-2016, he was the interim CEO of the Center for Leadership Innovation, managing the signature Bank of America Neighborhood Leadership Initiative, a national grant and leadership development program for nonprofits.
Mr. Rasheed serves on the Board of the Emerging Issues Forum, NC State University; the National Center of the Black Aged, Washington, DC; Performing Arts Center McGregor Hall in his hometown of Henderson, NC; and the Board of Vance-Granville Community College. Concurrently, he serves as president of the ECSU National Alumni Association, as well as the National Alumni Association Roundtable for the 10 HBCUs in North Carolina.
Mr. Rasheed holds a Bachelor of Science in Basic Business, MED in counseling and personnel services, and a Master of Science in Community Economic Development. He is a graduate of the senior executive management program of the John F. Kennedy School at Harvard University.
Rear Admiral Keith Smith
United States Coast Guard
Coast Guard Rear Adm. Keith Smith assumed the duties of commander, Fifth Coast Guard District, in August of 2018. Since that time, he has been a supporter and advocate for ECSU, working with the university.
In this position, Rear Adm. Smith serves as the operational commander for all U.S. Coast Guard missions from the North Carolina/South Carolina border to New Jersey, encompassing nearly 3,000 Coast Guard active duty, reserve, and civilian personnel, spanning 1.4 million square miles of oceans, bays, and rivers, several mid-Atlantic ports, the largest U.S. Naval Base in the world, and our National Capitol Region. He is serving in his sixth command assignment and has spent the majority of his career specializing in frontline tactical maritime law enforcement, port security and homeland security operations.
Rear Adm. Smith's military decorations include Defense Superior Service Medal, two Legion of Merit Medals, Defense Meritorious Service Medal, seven Meritorious Service Medals, as well as numerous other personal and unit awards and decorations. He was the Coast Guard's 2004 recipient of the John Witherspoon Inspirational Leadership Award.
He is a native of Cypress, California, and is a graduate of California State University, Long Beach, holding a bachelor's degree in criminal justice and a master's degree in homeland security.
Ethel Faye Gregory Sutton, '65
Retired Educator
Alumni Relations & Engagement
Ethel Faye Gregory Sutton is a member of ECSU's Class of 1965. Ms. Sutton graduated with a bachelor's degree in elementary education when the university was Elizabeth City State College.
From graduation to her retirement, Ms. Sutton taught in the Elizabeth City-Pasquotank Public Schools (ECPPS), serving in various roles from teacher to program director and supervisor. She is a multiple award-winning teacher and active member of civic organizations.
Ms. Sutton has been an active supporter of ECSU since 1965 working on a number of university committees. She has served in various capacities with the local alumni chapter, including vice president and treasurer. She also held elected positions of treasurer, chaplain, and board member of the ECSU National Alumni Association.
Ms. Sutton was crowned Ms. Alumni in 1971 as the result of her creative fundraising efforts, and she continues to support this program through her gifts to other contestants.
Ms. Sutton is a life member of the ECSU National Alumni Association, Inc., and member of the Elizabeth City Area Alumni Chapter; life member of the Elizabeth City Alumnae Chapter of Delta Sigma Theta Sorority, Inc.; a life member of the Northeastern North Carolina Section of the National Council of Negro Women; and a member of the National Association of University Women.
---