Six Named to ECSU Foundation Board of Directors
Posted On September 23, 2020
---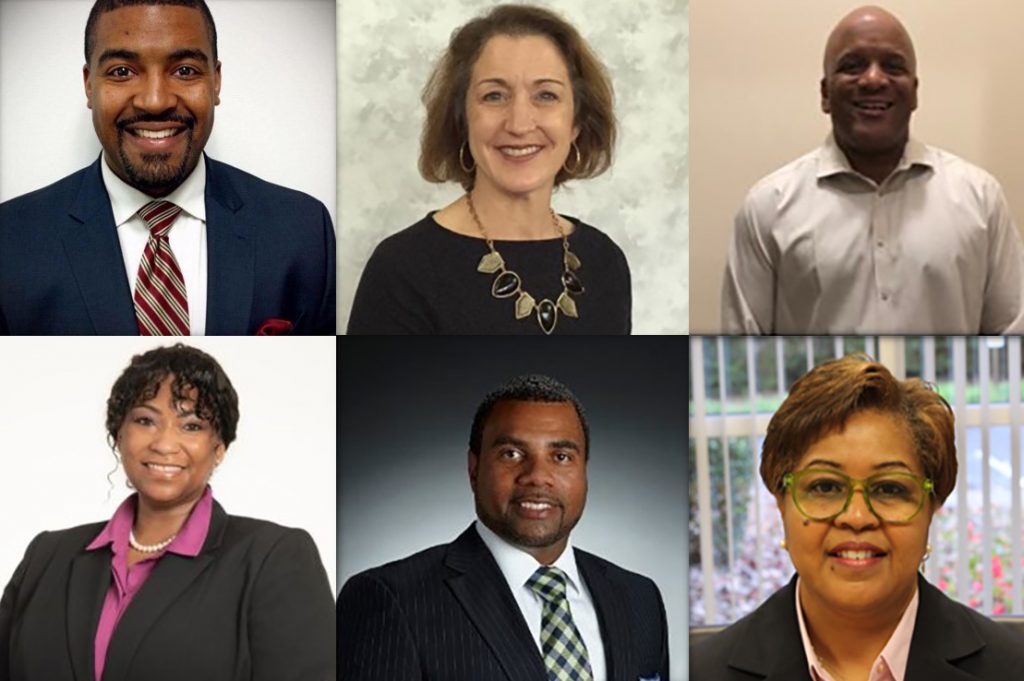 New ECSU Foundation Board members are, from top left and clockwise, Christian Lewis, Lydia Daniel, Dr Tracey Tullie, Chantel Cherry-Lassiter, Jermaine McKinley, and Bernadine Cobb.
Six new members have joined the Elizabeth City State University Foundation board of directors. According to ECSU Vice Chancellor for University Advancement, Anita Walton, the members began work advancing the university at their first board meeting on Sept. 11.
"We are excited to welcome our new board members," said Ms. Walton. "It's an exciting time to be a Viking and we are grateful that these six men and women will work with us to forge the future at ECSU."
The new members are Bernadine Cobb, Lydia Daniel, Chantel Cherry-Lassiter, Christian Lewis, Jermaine McKinley, and Dr. Tracey Tullie.
Ms. Cherry-Lassiter is the staff attorney for Southern Coalition for Social Justice, where she specializes in reentry and criminal record relief. She also handles juvenile justice projects. 
She is a 1999 graduate of ECSU and received her juris doctor degree from North Carolina Central University in 2018.
Christian Lewis is the payroll manager for the City of Norfolk, Virginia. He joined the city in 2015 after years of experience in project management, financial planning, and workforce administration.
Mr. Lewis received his bachelor's degree in criminal justice degree from ECSU in 2010.
Jermaine McKinley is the senior director of finance for Oracle's communication global business unit. Prior to Oracle, Mr. McKinley was the vice president for finance at Patheon in Raleigh.
He is a graduate of North Carolina State University with a bachelor's degree in accounting.
Lydia Daniel is a North Carolina Senate and General Assembly staff member. She is a 1993 graduate of North Carolina State University with a bachelor's degree in poultry and animal science.
Her daughter, Brenna Daniel, is a 2020 graduate of ECSU's aviation science program.
Dr. Tracey Tullie is the quantitative analytics director for Wells Fargo Bank in Charlotte, North Carolina. He is a former assistant professor of mathematics at North Carolina A&T University.
Dr. Tullie is a native of Alabama. He received his master's degree and doctor of philosophy in applied mathematics from North Carolina State University.
Bernadine Cobb has worked for the State Employees' Credit Union since 1985. Over the years she has held numerous executive positions and currently serves as a senior vice president.
She received her bachelor's degree in economics from UNC Chapel Hill in 1984.
The Elizabeth City State University Foundation was established on Feb. 2, 1971, to provide educational assistance for students, to support faculty, and to support the operational needs of the university. The Foundation is a 501(c)(3). Dr. Peter Eley Class of 2000 serves as the board chair.
---