Six ECSU Students Inducted into Psi Chi International Honor Society for Psychology During Virtual Ceremony
Posted On November 30, 2020
---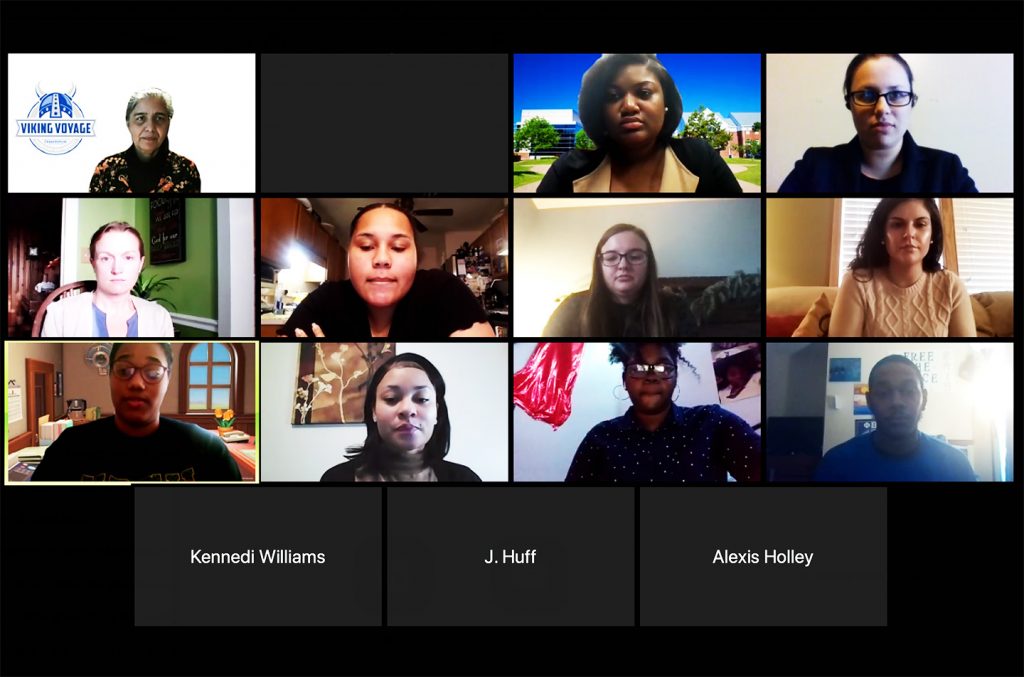 Six Elizabeth City State University psychology program majors were inducted into the Psi Chi International Honor Society for Psychology on Nov. 19.
The ceremony, which took place virtually using Zoom, was led by psychology professor and Psi Chi faculty advisor, Dr. Kulwinder Kaur-Walker, and current ECSU Psi Chi chapter president, Jaida Ellis. The event is an annual induction ceremony honoring the top students in the program.
ECSU students Alexis Blackwell, Moriya French, Janell Kornegay, Samantha Payne, Molli Riddick, and Diamond Vann were this year's inductees.
"These students have excelled in their studies and shown a commitment to the science of psychology," said Dr. Kaur-Walker. "I am pleased to see them become a part of this psychology international academic society."
These inducted Psi Chi members also comprise the incoming chapter officers:
Moriya French, spring 2021 president;
Alexis Blackwell, spring 2021 vice president; 
Jairus Davis, spring 2021 treasurer.
According to Dr. Kaur-Walker, students who qualify for the Psi Chi International Honor Society must meet six requirements:
· Completion of three semesters or equivalent of the college courses;
· Completion of nine semester hours or equivalent of psychology courses;
· Ranking in the top 35 percent of their class in general scholarship;
· Have a minimum GPA of 3.0 (on a 4.0 scale) in both psychology courses and cumulative grades;
· Be an active member in the psychology club and other department/program related activities;
· Commitment to mentor the junior peers in the psychology program in addition to other voluntary activities at community and university level.
Mentoring fellow students is important to supporting not only the students, but also the program, says 2018 ECSU psychology graduate and former Miss ECSU, Arielle Beamon. Ms. Beamon was the keynote speaker for this year's event.
"You cannot begin to realize the many lives you will affect in the future," said Ms. Beamon. "Learn everything you can learn. Be a role model. Live your life so that others will respect you in all situations."
After Ms. Beamon's address to the inductees, they viewed a pre-recorded welcome video from Psi Chi's president of its board of directors, Dr. Deborah Harris O'Brien.
Psi Chi is an International Honor Society in Psychology, founded in 1929 for "the purposes of encouraging, stimulating, and maintaining excellence in scholarship, and advancing the science of psychology."
Psi Chi serves two major goals. The first of these is the society's obligation to provide academic recognition to its inductees through membership. The second goal is the obligation of each of the society's local chapters to nurture "the spark of that accomplishment by offering a climate congenial to its creative development."
---