Sigma TauDelta inducts 13 ECSU students
---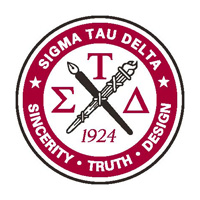 Kesha Williams
April 23, 2012
The Iota Nu Chapter of Sigma Tau Delta International English Honor Society at Elizabeth City State University recently inducted 13 new student members an done faculty member. Their names, majors and hometowns follow:
Student Inductees
Sheila Boyd Sylvester, English, Elizabeth City,N.C.
Lena Black, pharmaceutical science, Stockbridge,Ga.
Deborah Brown, sports science, Camden, N.C.
Angelena Clagon, criminal justice, Plymouth, N.C.
Trizha Flowers, pharmaceutical science, Cary, N.C.
Dannie Gray, English, Edenton, N.C.
Jamel Hurley, English, Hertford, N.C.
Edith Jennings, English, Camden, N.C.
Ebony Joyner, English, Rocky Mount, N.C.
Mahogany Joyner, English, Rocky Mount, N.C.
Chris Ann Massiello, English, Moyock, N.C.
Tonni McCartney, English, Shiloh, N.C.
Jenee Phillips, computer science, Lewiston, N.C.
Faculty Inductee
Dr. Tatiana Tagirova, assistant professor, ECSU Department of Language, Literature and Communication.
Of the nearly 100 members inducted into the Iota Nu Chapter of Sigma Tau Delta since 2005, approximately 30 students, faculty and staff are active members on campus.
Sigma Tau Delta is an International English Honor Society with more than 800 chapters in the United States, Europe, the Middle East and the Caribbean. A member of the Association of College Honor Societies, the organization was founded in1924 at Dakota Wesleyan University. The society strives to:
confer distinction for high achievement in English language and literature in undergraduate, graduate, and professional studies
provide, through its local chapters, cultural stimulation on college campuses and promote interest in literature and the English language in surroundingcommunities
foster all aspects of the discipline of English, including literature, languageand writing
promote exemplary character and good fellowship among its members
exhibit high standards of academic excellence and
serve society by fostering literacy.
Theorganization's faculty advisor at ECSUÂ is Jeanette W. Morris. The event speaker was Judah-Micah Lamar, a visiting lecturer in the Department of Language, Literature and Communication at ECSU.
---