Sharp earns Master Aviation Educator (MAE) accreditation
Posted On January 23, 2012
---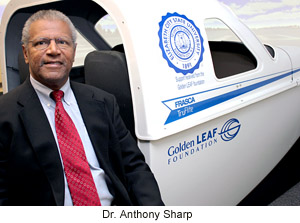 Kesha Williams
January 23, 2012
Dr. J. Anthony Sharp, a professor and director of the Aviation Science Program at Elizabeth City State University, recently earned his Master Aviation Educator (MAE) accreditation.
He is one of only 10 aviation teachers in North Carolina to earn the prestigious &quotMaster Educator&quot title. The national accreditation, through the Colorado-based Master Instructors LLC, is recognized by the Federal Aviation Administration and involves completing more than 500 hours of work demonstrating skills and competencies in various areas of aviation.
Candidates must demonstrate an ongoing commitment to excellence, professional growth and service to the aviation community. They also must pass a rigorous evaluation by a board of review.
The process parallels the continuing education regimen used by other professionals to enhance their knowledge base while increasing their professionalism.&ampnbsp Designees are recognized as outstanding aviation educators for not only their excellence in teaching, but for their engagement in the continuous process of learning — both their own and that of their students.
A Master Aviation Educator designation recognizes individuals who work as professional teachers of aviation in industry but who do not necessarily hold FAA instructor certification.&ampnbsp Fewer than 700 aviation educators worldwide have achieved one or more of the Master accreditations, which must be renewed biennially to show continuing education and knowledge of changes in the industry.
At ECSU, Sharp leads the only four-year collegiate aviation education degree program in the state of North Carolina. Graduates earn a Bachelor of Science degree in aviation science with minors in aviation management, electronics, aviation computer science, avionics, public administration, flight education or space science.
---