SGA President Wants Every Viking to Be a Campus Leader
Posted On August 15, 2018
---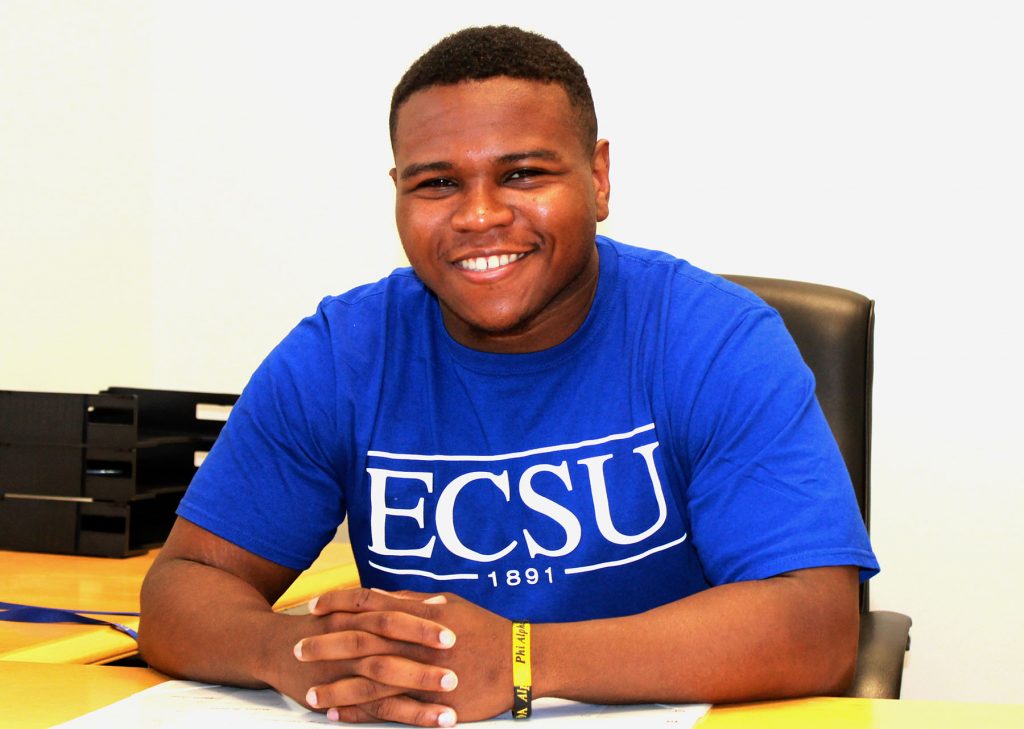 Chorn Poyner, the 2018-2019 Student Government Association president, says he wants all ECSU students to find their leadership role on campus.
Chorn Poyner believes there's room at Elizabeth City State University for every student to be a leader. That's why the 2018-2019 Student Government Association president hopes to expand the Student Senate and make room for new Vikings to play a direct role in their future.
"At some point I would like to have every student serve in a leadership role," said Poyner.
Sitting at his desk inside his SGA office in the Student Center, Poyner is flanked by a black and white photograph featuring former ECSU Chancellor Marion Thorpe. The photo was taken when his grandfather retired after years of service as a staff member at the university. It's a reminder that he has a strong connection to this campus.
The Elizabeth City native has said that enrolling at ECSU was a natural decision, given his experience at the institution through Upward Bound as a youth. And that decision has also led Poyner to celebrate his love of Viking Pride, something he hopes to impart on future Vikings, especially those coming to campus for the first time as freshmen.
"The goal (this year) is to get the freshman class engaged," says Poyner.
Over the years, the SGA president says he had noticed a lack of student involvement on campus. He says being involved in campus activities ultimately leads to being a decision maker on campus. Empowering his fellow Vikings is Poyner's main goal as SGA president.
Last weekend, incoming freshmen were involved in New Viking Days, celebrating their arrival on campus. It was a series of events that followed on the heels of the Aug. 10 move-in day. Poyner says students were able to participate in community service activities such as packing backpacks for J.C. Sawyer Elementary School students, and volunteering at Food Bank of the Albemarle.
"When we went to the Food Bank we had a lot of freshmen," said Poyner. "That was the first time I've seen so much community service at one time."
Poyner says perhaps his biggest push this year, tying into his desire to get students involved on campus, will be the involvement of students in Student Senate committees. Committees such as campus beautification and student life give students a stronger voice.
A stronger voice, he says, means students are decision makers on campus. And that "reenergizes" Viking Pride and gets the students engaged and turning out for events.
Poyner says this year will also be big for ECSU's student government. The campus will host the Association of Student Governments meeting in October. He says that encompasses four SGA representatives from each of the 17 campuses in the University of North Carolina System, as well as representatives from the School of Science and Math.
---