Seven inducted into National Criminal Justice Honor Society
Posted On December 5, 2011
---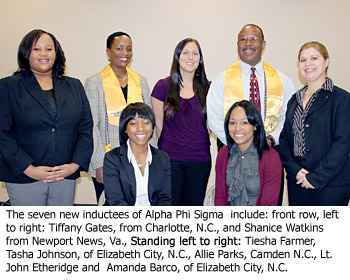 Kesha Williams
December 05, 2011
Seven students were inducted recently into the Chi Rho Omega chapter of Alpha Phi Sigma, the National Criminal Justice Honor Society.
&ampnbspThey are Amanda Barco and Lt. John Etheridge, Tiesha Farmer of Elizabeth City, N.C. Tiffany Gates of Charlotte, N.C. Tasha Johnson of Elizabeth City, N.C. Allie Parks of Camden N.C. and Shanice Watkins of Newport News, Va.
Alpha Phi Sigma recognizes academic excellence of undergraduate and graduate students of criminal justice, as well as juris doctorate students. Its goals are to honor and promote academic excellence, community service, educational leadership and unity.
&ampnbspTo qualify, undergraduate students must have declared a major, minor or equivalent in criminal justice fields, earned at least a 3.2 grade point average overall and in courses in criminal justice. Additionally, the students must be in the top 35 percent of their class.
Alpha Phi Sigma is the only criminal justice honor society that is a certified member of The Association of College Honor Societies and affiliated with The Academy of Criminal Justice Sciences.
Advisors for ECSU's honor society chapter are Dr. Lynn Barnes, associate professor and coordinator of the criminal justice program, and Dr. Wayman Parson, associate professor. Both are in ECSU's Department of Criminal Justice, Sociology and Social Work.
&ampnbspThe seven new inductees include: seated left to right: Tiffany Gates, from Charlotte, N.C., and Shanice Watkins from Newport News, Va.,
Standing left to right: Tiesha Farmer, Tasha Johnson, of Elizabeth City, N.C., Allie Parks, Camden N.C., Lt. John Etheridge and&ampnbsp Amanda Barco, of Elizabeth City, N.C.
---