Seven Cadets Commissioned on May 6 at ECSU
---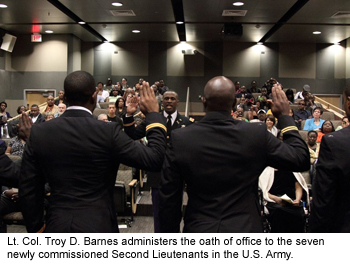 Lt. Col. Troy D. Barnes
May 10, 2011
The Military Science Department at Elizabeth City State University held its Spring 2011 Commissioning Ceremony for seven cadets on May 6, 2011.
Cadets Danny Adams, Floyd Bailey, Amaquah Bonsu, Lovell Pendleton, Melvin Perry Jr., Brandon Smith and James Stevens were commissioned as second lieutenants in the U.S. Army.
Lt. Col. Troy D. Barnes, commanding officer of ECSU's Reserve Officer Training Corps (ROTC), said he was proud of the cadets for the progress they've made during their years in the program.
Barnes was particularly pleased with the leadership of Cadet Perry, who served as the Viking Battalion Commander.&ampnbsp Barnes said Perry displayed outstanding leadership skills and dedication during the year and during the 2011 ECSU ROTC Military Ball.
Perry ended his four-year career as one of the most highly decorated cadets in the ECSU ROTC program's history. His awards are both for military achievements and academic achievements. At the Military Ball, he received eight individual awards, the most of any cadet. Those awards were the Military Order of the World Wars, Superior Cadet Decoration Award, Distinguished Military Graduate, Legion of Valor Cross, Reserve Officers Association Award, National Defense Industrial Association award, the Platinum Medal Award and the Dean's List Award).
At the commissioning ceremony, Perry led his fellow graduating seniors one last time. He passed the reins to Cadet Ashley Smith, the incoming Viking Battalion commander.
Col. Lester C. Moore, assistant chief of staff, G5 U.S. Army Recruiting Command at Fort Knox, Ken., spoke at the ceremony. Moore is a highly decorated officer. His awards and decorations include the Bronze Star, Defense Meritorious Service Medal, Meritorious Service Medal with three Oak Leaf Clusters, Joint Service Commendation Medal, Army Commendation Medal with two Oak Leaf Clusters, Joint Service Achievement Medal with Oak Leaf Cluster, Army Achievement Medal, Army Staff Badge, Recruiting Badge and the Parachutist Badge.
As is the tradition at ECSU, the cadets' Oath of Office was repeated during the university's Commencement held on May 7 at Roebuck Stadium.
---