Serbessa takes chemistry class to Port Discover
Posted On September 20, 2011
---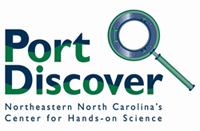 Kesha Williams
September 20, 2011
If you thought of chemistry as a subject reserved for high school students, just check out the lessons planned for youngsters ages 7 to 12 at Port Discover's Afternoon Science Program on Sept. 22. Chemistry 101 is the class with Dr. Tesfaye Serbessa, an associate professor at Elizabeth City State University who teaches organic and medicinal chemistry. He and three undergraduate students at ECSU will do hands-on experiments with youths at Port Discover with hopes of sparking their interest in science.
&quotThe main thing is to motivate kids to go into the sciences as a career later on. I feel that for this country to remain competitive in the 21st-century global economy, more and more Americans should be encouraged to go into science,&quot Serbessa said.
&quotThis after-school program is a way to encourage the community to engage in science-related activities. The students will learn how familiar things in their daily lives work,&quot he said.
Serbessa and the assistants will use simple items, such as cold and hot packs used by athletes on injuries and sprains, to explore chemistry and science principles.
&quotA hot pack allows chemicals to react with each other and release heat energy,&quot Serbessa explained. &quotIn the case of a cold pack, energy is absorbed. The kids will measure the temperature. They also will determine which uses chemicals are best for. We will use a variety of chemicals.&quot At the end of the experiment, measurement and their observation, the young science explorers will tell Serbessa which chemical is better for hot or cold pack.
Serbessa and the ECSU students also will assist the youth in exploring the basic science behind another familiar item – a glow stick or light stick. &quotWe will explore how it works,&quot he said. &quotThe kids will assist us in carrying out experiments and see how light is emitted when you mix different chemicals. These experiments are fun and engaging. They may not realize they are doing experiments because they are so fun.&quot
The experiments were selected based on the experiences and success of other teachers with students in this age group. The kids may have seen similar lessons presented at science fairs.
Serbessa acknowledges that, among the sciences, chemistry may be becoming more popular as a college major. Students select chemistry because it is necessary for their preparation for professional schools. Few, he said, choose it for its basic science appeal. He believes the eminence of the United States is related to the amount of money spent on the scientific study, research and widespread application of what is learned.
Although he teachers college students daily, Serbessa will be comfortable presenting scientific concepts to youngsters. Years ago, he taught high school and conducted science experiments with young people in his native Ethiopia. Serbessa is confident that the natural curiosity he saw in youngsters 10 years ago exists within the current generation of young people.
&quotWe just have to make science interesting,&quot he said, &quotand they have an open mind to learning.&quot
---