Senior Viking quarterback Daquan Neal, number 3, will play in Florida's Spiral Tropical Bowl Saturday
Posted On January 10, 2018
---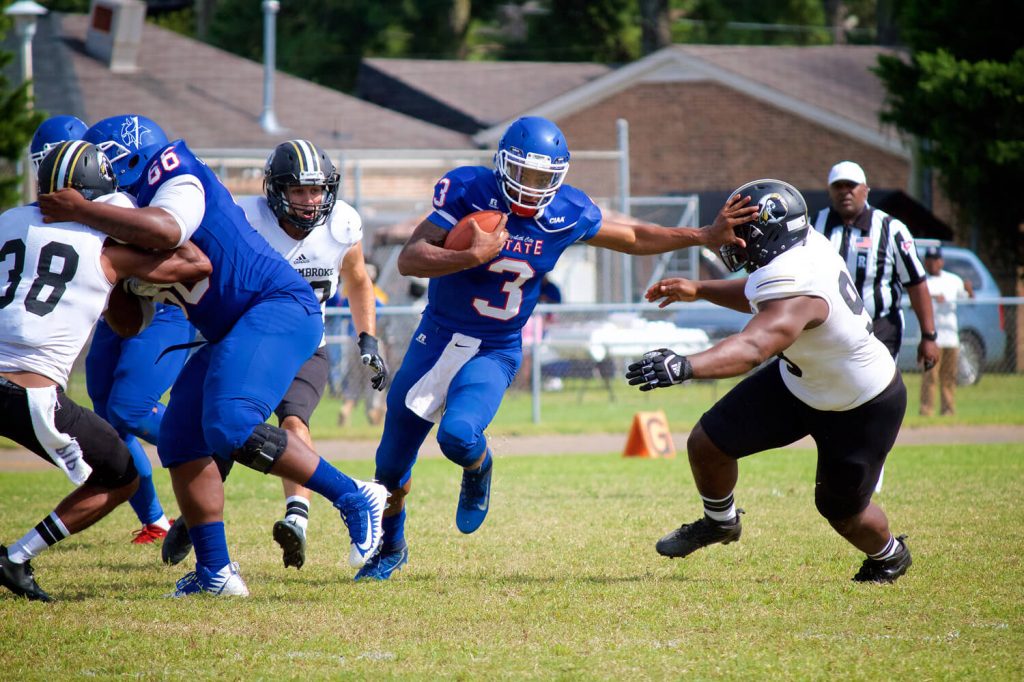 Vikings Quarterback Neal To Participate in Spiral Tropical Bowl
Elizabeth City State University's senior quarterback Daquan Neal has been invited to participate in the SPIRAL Tropical Bowl in Daytona, Florida at Daytona Beach Municipal Stadium on Sunday, Jan. 14.
Neal ended his senior football season as a Viking with 684 total yards rushing and 2318 total yards passing, including 25 total touchdowns. He finished ranking second among Central Intercollegiate Athletic Association in passing yards per game, third in passing touchdowns with 19, and tied for seventh in rushing touchdowns on the season with six.
Since 2016 over 110 Players from this game have gone on to the NFL, including more to the CFL and Pro Arena leagues. The Tropical Bowl is considered a top 4 Bowl Game by scouts and is attended by almost every NFL team – consistently scouts and general managers from 27 teams attend the event.
The SPIRAL Tropical Bowl National Team head coach is award winning 18-year NFL veteran Mike Stock,m formerly of the Green Bay Packers, while the American Team will be led by experienced former FBS Coach R. Todd Littlejohn who has coached for New Mexico, Syracuse, and Cal. Thirteen-year NFL Scout Ken Moll is the Tropical Bowl games scouting executive and he will be assisted by former Fritz-Pollard NFL Scout of the Year Jerry Hardaway, who is also in the Ourlads Pro Scout hall of Fame.
The SPIRAL Tropical Bowl USA is presented by East Preps, and NFL DRAFT BLITZ is the featured sponsor for the game. Sponsors also include MVP Wealth Management Group, True to Yourself Brand, and the broadcast partner FloFootball by FloSports. FloFootball has the exclusive rights to broadcast the SPIRAL Tropical Bowl and will stream the game online for subscribers at FloFootball.com
The SPIRAL Tropical Bowl is organized by its owner Michael Quartey Esq. For more info about the SPIRAL Tropical Bowl go to TropicalBowl.com
Follow Elizabeth City State Athletics via its official website at: www.ecsuvikings.com to get pre and post-game stories and updates. Like us on Facebook at: ECSUVikings Athletics and follow us on twitter at: @ECSUVikings
---